Ricominciamo a pubblicare le date del nostro amato nice & friendly DIY Club triestino.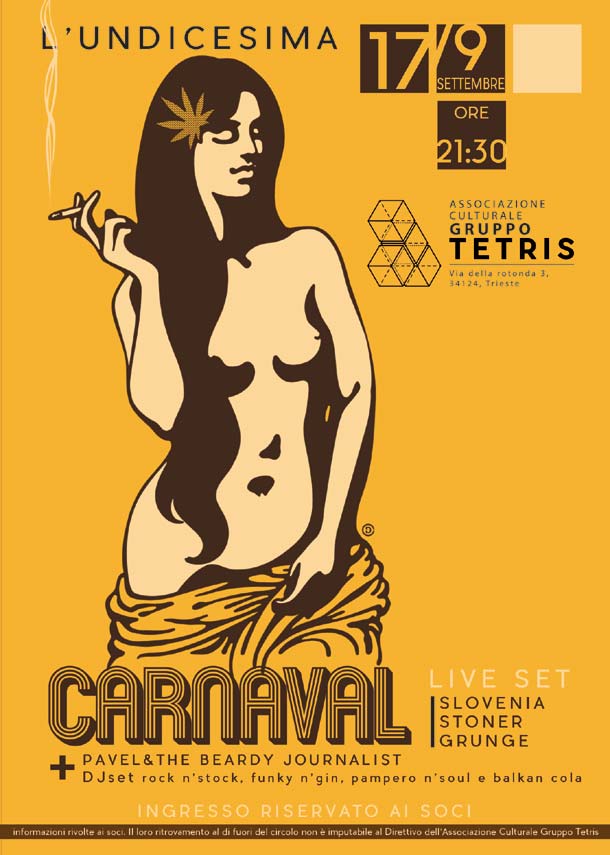 SABATO 17 SETTEMBRE: Carnaval (stoner/grunge, SI) + Pavel & the Beardy Journalist djset
Con dieci anni e passa d'esperienza alle spalle, i Carnaval dovrebbero prendervi a calci in culo senza troppa fatica, sempre se vi va: "it would be painful, but I guess you love the pain", come dicono loro. Prima e dopo il concerto PAVEL & THE BEARDY JOURNALIST serviranno rock n'stock, funky n'gin, pampero n'soul e balkan cola.
MERCOLEDÌ 21 SETTEMBRE: Negativland (experimental music, USA) + Hybrida sound & light proiezioni e djset
Per la prima volta in 34 anni i Negativland propongono sul palco versioni audiovisive radicalmente nuove di molti pezzi preferiti dei loro fan, mai sentite prima dal vivo. Per la prima volta in otto anni, i Negativland suonano in Europa. Sempre per la prima volta, arrivano a Trieste. Per celebrare degnamente la presenza di questo nome storico nel campo dell'avanguardia e della provocazione artistica, abbiamo chiesto agli amici di Hybrida di aprire e chiudere la serata con le loro proiezioni e il loro dj set (tutto sul tour italiano dei Negativland).
VENERDÌ 23 SETTEMBRE: Pizda Materna (hc punk/crust, SI) + Definite (hc, GO)
I Pizda Materna, cosanguinei dei Warfare e fedeli da sempre all'etica DIY, hanno iniziato negli anni Novanta in Slovenia, quando non era proprio così scontato.
Aprono i Definite: hardcore sparato a mille con qualche richiamo youth crew, per non farsi mancare niente.
VENERDÌ 30 SETTEMBRE: Nibiru (psych/sludge, TO) + more tba
"Navigating a space between Skullflower's celestial siege and the blood rite invocations of Dark Buddha Rising, this is music as a visceral rite of deliverance". Dalla recensione a firma Jonathan Selzer (Metal Hammer UK) di "Padmalotus", l'ultimo album dei torinesi Nibiru.