Il programma del Club To Club (2-6 novembre, Torino)
Riceviamo e pubblichiamo.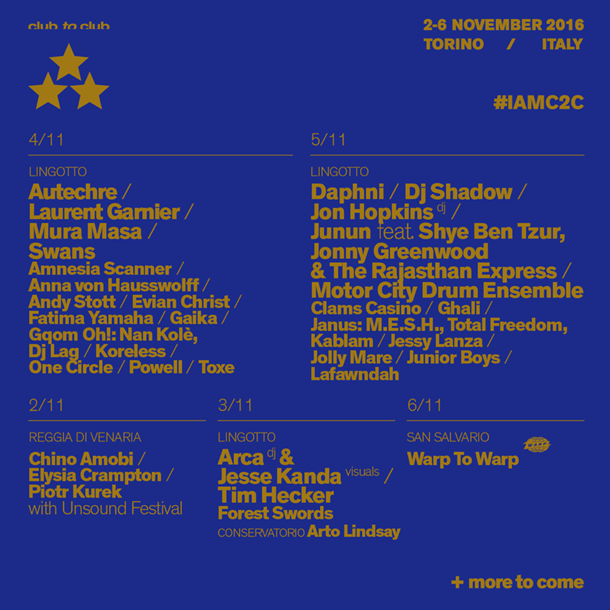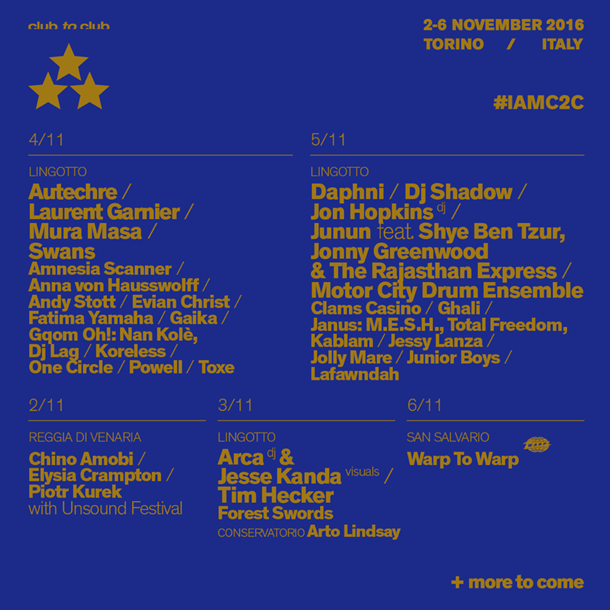 Dopo il grandissimo successo della scorsa edizione con la straordinaria esibizione di Thom Yorke, il festival torna a Torino dal 2 al 6 novembre. Come sempre parte costitutiva della Contemporary Art Week torinese, Club To Club si svolgerà in location uniche e sorprendenti nella città più elegante e regale d'Italia, coinvolgendo quest'anno anche la vicina Reggia di Venaria (capolavoro del barocco europeo proclamato nel 1997 Patrimonio dell'Umanità dall'Unesco). Quasi 50 artisti provenienti da 15 paesi del mondo si daranno appuntamento nel capoluogo piemontese: 17 gli act in esclusiva italiana (tra i quali Dj Shadow, il cui set celebrerà il ventennale dell'album Endtroducing….., il producer venezuelano e collaboratore di Björk Arca e lo storico duo britannico di casa Warp Records Autechre) e ben 12 per la prima volta in assoluto nel nostro paese (tra cui spicca Junun, il progetto di Jonny Greenwood dei Radiohead con Shye Ben Tzur e The Rajasthan Express).
#IAMC2C è la campagna 2016 firmata dallo studio Bellissimo / Luca Ballarini, che ha curato tutte le campagne del festival fin dalla prima edizione, e dal guest designer d'eccezione Ian Anderson di The Designers Republic, che ha firmato le iconiche copertine di artisti Warp Records come Aphex Twin e Autechre. Le tre stelle dell'artwork ideato da Ian Anderson rappresentano i tre cardini del festival, le tre anime che ne compongono lo spirito: gli artisti, Torino, la community del festival. In occasione della sedicesima edizione, Club To Club rinnova la collaborazione con il main partner Absolut, iconica vodka svedese la cui anima eclettica animerà la programmazione dell'headquarters del festival, Absolut Symposium, e non solo. Nel 2016 si rinnova inoltre la partnership con Red Bull Music Academy, vera e propria istituzione musicale a livello globale, che presenterà un palco in esclusiva italiana: protagonisti Daphni, Amnesia Scanner, Evian Christ, Fatima Yamaha, Gaika, Nan Kolè e Dj Lag (Gqom Oh!), M.E.S.H., Total Freedom e Kablam (Janus), Jessy Lanza, Jolly Mare, Junior Boys, Koreless, One Circle e Toxe. Quasi esauriti i biglietti Passport (2-6 novembre) per assistere a tutti gli appuntamenti del festival, che è stato segnalato quest'anno, nell'edizione autunnale della sua guida, anche dal prestigioso magazine statunitense Pitchfork, che lo considera il più importante appuntamento italiano dedicato ai nuovi suoni.
mercoledì 2 novembre
Reggia di Venaria
w/ Unsound Festival
CHINO AMOBI (US) Italian Debut Exclusive show
ELYSIA CRAMPTON (BO/US) Italian Debut Exclusive show
PIOTR KUREK (PL)
giovedì 3 novembre
Lingotto Fiere – Sala Gialla [Resident Advisor Stage] ARCA (VE) dj & JESSE KANDA (UK) visuals Italian Debut Exclusive show
TIM HECKER (CA)
FOREST SWORDS (UK) Italian Exclusive show
Conservatorio Giuseppe Verdi
ARTO LINDSAY (US)
venerdì 4 novembre
Lingotto Fiere – Padiglione 1
AUTECHRE (UK) Italian Exclusive show
LAURENT GARNIER (FR)
MURA MASA (UK) Italian Exclusive show
SWANS (US)
ANDY STOTT (UK)
POWELL (UK) live
ANNA VON HAUSSWOLFF (SE)
Lingotto Fiere – Sala Gialla [RBMA Stage] AMNESIA SCANNER (AS) Italian Debut Exclusive show
EVIAN CHRIST (UK) Italian Exclusive show
FATIMA YAMAHA (NL) Italian Debut Exclusive show
GAIKA (UK) Italian Debut Exclusive show
GQOM OH!: NAN KOLÈ (IT) / DJ LAG (ZA) Italian Debut Showcase
KORELESS (UK) Italian Exclusive show
ONE CIRCLE (IT)
TOXE (SE) Italian Debut Exclusive show
sabato 5 novembre
Lingotto Fiere – Padiglione 1
DJ SHADOW (US) Endtroducing….. 20th Anniversary / Italian Exclusive show
JON HOPKINS (UK) dj
JUNUN feat. SHYE BEN TZUR, JONNY GREENWOOD & THE RAJASTHAN
EXPRESS (INT) Italian debut
MOTOR CITY DRUM ENSEMBLE (DE)
CLAMS CASINO (US) Italian Debut Exclusive show
GHALI (IT)
Lingotto Fiere – Sala Gialla [RBMA Stage] DAPHNI (CA) Italian Exclusive show
JANUS: M.E.S.H. (US) / TOTAL FREEDOM (US) / KABLAM (SE) Italian Debut Showcase
JESSY LANZA (CA)
JOLLY MARE (IT)
JUNIOR BOYS (CA)
LAFAWNDAH (FR) Italian Debut Exclusive show
domenica 6 novembre
San Salvario – location varie (main stage Piazza Madama Cristina)
DANCE SALVARIO
Warp To Warp
San Salvario Emporium
da giovedì 3 a sabato 5 novembre
Hotel Ac Marriott Lingotto ABSOLUT SYMPOSIUM
POPULOUS (IT)