PROCESSION, Doom Decimation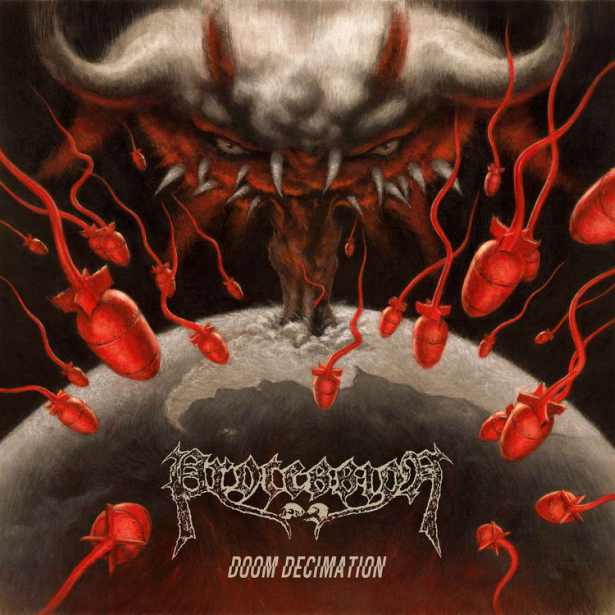 Negli ultimi anni il doom ha attratto un pubblico sempre più vasto, attratto dall'estetica e dai testi decadenti, o dai ritmi lenti e dai riff di derivazione spesso Iommi-ana. Gran parte di questo pubblico non ne comprende l'essenza e spesso fa rientrare in tale genere materiale che non ci ha niente a che fare.
Uno dei nomi che incarna al meglio questo modo di suonare e ne possiede tutte le caratteristiche è quello dei Procession. La band, sicuramente conosciuta tra gli appassionati, si è formata a Valparaiso in Cile grazie a Felipe Plaza Kutzbach, il quale, dopo un primo tour europeo, nel 2009, decide di trasferirsi in Svezia, costringendo il gruppo a modificare totalmente la formazione, ad eccezione di Claudio Botarro Neira, che rimane il bassista ufficiale pur continuando a vivere in Cile. Attualmente, oltre ai due, ci sono Uno Bruniusson (ex In Solitude) alla batteria e Jonas Pedersen (ex Tsjuder) alla seconda chitarra.
Dopo un ottimo album come To Reap Heavens Apart (2013), i Procession tornano a farsi sentire con questo nuovo disco, Doom Decimation, che già dal titolo mette le cose in chiaro: un lavoro tradizionale dai toni epici e dai riff poderosi e sostenuti, cosa che emerge sin dall'inizio con la strumentale "The Warning", passando per la successiva "When Doomsday Has Come" e per il singolo "Lonely Are The Ways of The Stranger".
Tutte le otto tracce sono di ottima fattura, con una produzione puntuale e arrangiamenti molto buoni. La voce di Felipe Plaza Kutzbach risalta ancora di più che nella precedente fatica in studio e c'è anche una maggiore attenzione sia per il riff in sé che per il gioco le chitarre. Il riferimento più evidente lo possiamo trovare nei Candlemass, e la band è al momento una delle migliori formazioni a riproporre questo stile, risultando incredibilmente personale. Pur con contaminazioni che spaziano dal Sud America al Nord Europa, il disco ha un feeling molto "caldo" e il fatto che sia stato registrato in Cile durante un'estate particolarmente afosa – dunque non in Svezia – ha inciso molto sul risultato finale.
È difficile rimanere indifferenti davanti a grandi episodi come "Amidst The Bowels From Earth", "As They Reached The Womb" o "One by One They Died". Con questa seconda uscita per High Roller Records, i Procession hanno realizzato un'opera di doom metal a dir poco esemplare, riuscendo a bissare i livelli qualitativi del precedente To Reap Heavens Apart. È un album che vi consigliamo che seguiate questo stile o meno.
Tracklist
01. The Warning
02. When Doomsday Has Come
03. Lonely Are The Ways Of The Stranger
04. Amidst The Bowels Of Earth
05. Democide
06. All Descending Suns
07. As They Reached The Womb
08. One By One They Died