Night Shift, puntata 220 (Riti Occulti)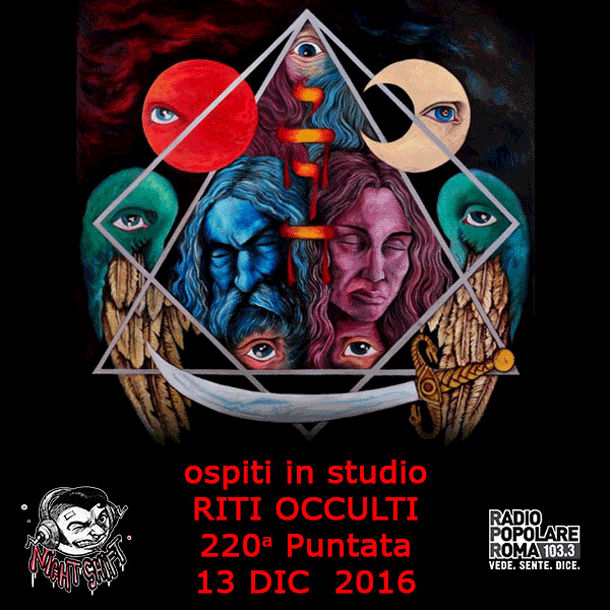 La proposta musicale dei Riti Occulti è incentrata su alcuni generi di riferimento quali il doom, il black metal e la psichedelia degli anni '70: una miscellanea di suoni ipnotici e tematiche esoteriche che ci ha condotto sul sentiero della mano sinistra.
Playlist
01. Police On My Back – The Clash
02. Aes – Riti Occulti
03. One Of These Days – Pink Floyd
04. Into The Coven – Mercyful Fate
05. Beri'ah – Riti Occulti
06. Phenomena – Daemonia
07. Smart Patrol – Devo
08. I'm Nobody – Riti Occulti
09. Say Goodnight To The World – Dax Riggs
10. Sabbath Bloody Sabbath – Black Sabbath
11. Adonai Iv – Riti Occulti
12. The Hangman's Daughter – Agents Of Oblivion
13. Stained Class – Judas Priest
14. Assi'ah – Riti Occulti
15. A Gothic Romance – Cradle Of Filth
16. Black Lava – Satyricon
Night Shift
In onda ogni martedì a partire dalle 22:00 sui 103.3 FM di Radio Popolare Roma e in streaming su
radiopopolareroma.it
.
Contenitore musicale notturno che punta alla messa in circolo delle sonorità meno diffuse nell'etere romano. Grande attenzione è rivolta alle band underground nostrane, che vengono invitate a raccontarsi proponendo la loro musica e quella delle loro origini.