Ecco di cosa ci parla Night Shift questa settimana.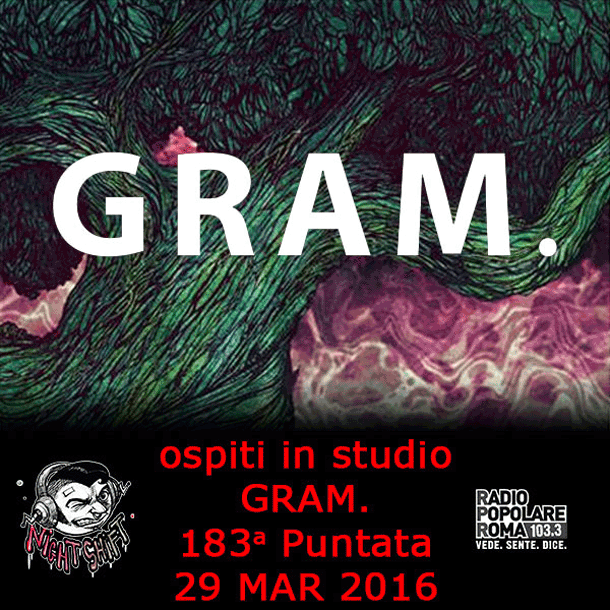 I GRAM. nascono dalla nuova generazione di musicisti cresciuta al Sinister Noise, storico rock club romano noto per accogliere da sempre il meglio del rock alternativo della Capitale. Durante la trasmissione ci hanno raccontato del loro recentissimo primo album How Can I Say?, un sussidiario della cultura rock indipendente americana ed europea degli anni Novanta, di cui conserva in particolare l'anarcoide libertà comunicativo-espressiva.
Ascolta la puntata sul Mixcloud di Night Shift.
Playlist
01. The Right Profile – The Clash
02. Crazy Vegan – Gram.
03. Crazy Horses – The Osmonds
04. Only Good for Conversation – Sixto Rodriguez
05. Southern-Western – Gram.
06. Sleeping Bag – Beck
07. Lost – Meat Puppets
08. Ashtray – Gram.
09. Swlabr – Cream
10. Red – King Crimson
11. Sun Burns In California – Gram.
12. Secret Xtians – Unknown Mortal Orchestra
13. Nothing To Say – Motorpsycho
14. Junk DNA – Gram.
15. Perpetual Oyster – Yawning Man
16. The Changeling – The Doors
Night Shift
In onda ogni martedì a partire dalle 22:30 sui 103.3 FM di Radio Popolare Roma e in streaming su
radiopopolareroma.it
.
Contenitore musicale notturno che punta alla messa in circolo delle sonorità meno diffuse nell'etere romano. Grande attenzione è rivolta alle band underground nostrane, che vengono invitate a raccontarsi proponendo la loro musica e quella delle loro origini.