NICK OLIVERI, N.O. Hits At All – Vol. 1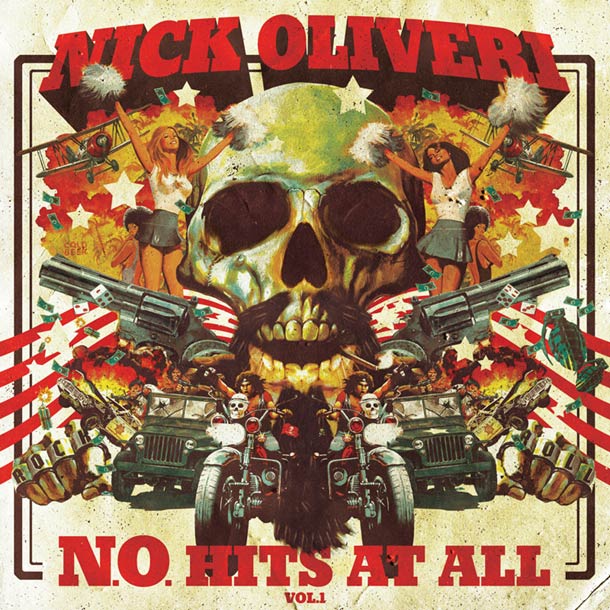 In attesa che il debutto della sua nuova creatura Bloodclot veda la luce su Metal Blade nella prima metà del 2017, Heavy Psych Sound Records inaugura una serie di uscite che raccoglieranno una parte delle collaborazioni che Nick Oliveri ha avuto nel corso della sua carriera venticinquennale.
Oltre ai suoi Mondo Generator e alla militanza in band imprescindibili quali Kyuss e Queens Of The Stone Age, il bassista californiano ha infatti partecipato a vario titolo a più di 50 lavori di nomi piú o meno grossi dell'undergorund americano. Questo Volume 1, in particolare, vede succedersi sei brani in cui Oliveri è impegnato come cantante solista.
Le coordinate sono quelle facilmente intuibili, ovvero un punk rock sporco e veloce che non va molto per il sottile. A due out-takes (un brano originale e una cover dei Balst) del suo progetto acustico Death Acoustic, si affiancano una traccia degli olandesi Komatsu e reinterpretazioni di Black Flag ("Revenge", coi Winnebago Deal), Motörhead (una rispettosa "Speedfreak" con gli Svetlanas) e Groundhogs ("Eccentric Man", con i Ken Pustelnik's Groundhogs), forse il numero migliore del programma, non fosse altro perché permette di rispolverare il nome di una band sempre troppo sottovalutata.
In definitiva, un progetto curioso per formato (ep di 6 brani e meno di 20 minuti) e modalità di pubblicazione (vedremo i prossimi volumi), che omaggia uno degli eroi meno celebrati del rock americano degli ultimi venticinque anni, importante trait d'union tra scena underground e mainstream. Di sicuro interessante per il fan completista, per tutti gli altri forse è meglio riascoltare i dischi dei Mondo Generator.