MANTICORE, Behold The Ascension Of The Execrated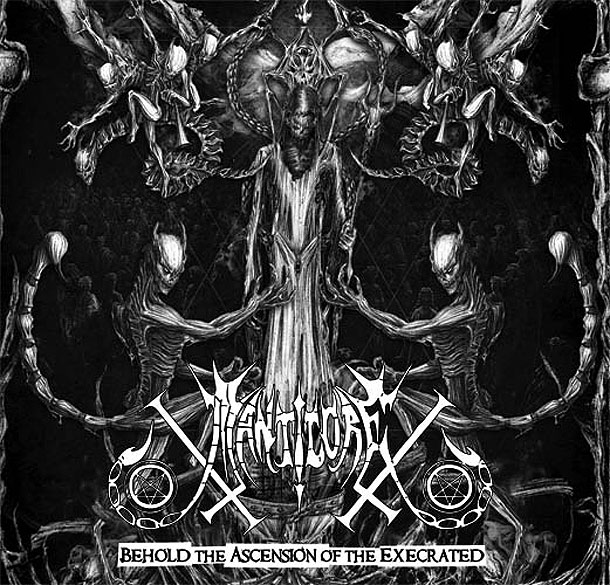 Sono passati poco più di sei anni dall'ultimo album dei Manticore, quel For Rats And Plague a cui è seguito l'allontanamento di Satanel (voce, chitarra) e l'entrata in formazione di Naberius, già membro dei Baphomets Horns. Da allora l'attività del trio sembra essere stata ridotta al minimo e difatti dal 2007 sono riusciti a pubblicare solo due split, compreso quello con i Grave Upheaval uscito in luglio per l'onnipresente Nuclear War Now. Ben venga allora un disco come Behold The Ascension Of The Exacrated, che arriva finalmente a rianimare un gruppo un po' dimenticato da una scena sempre più in espansione. Fin dai primi ascolti alcune differenze dovute al cambio in line-up si fanno sentire, anche se non è nulla di radicale, e nel complesso si rimane comunque vicini a quanto già registrato finora. Gli elementi tipici del genere li ritroviamo tutti, ma al contempo prende forma qualcosa di più approfondito, che permette la costruzione di un'atmosfera dilatata ancora più marcia e tetra. La band si muove quindi verso quella dimensione estrema dove black e death metal confluiscono in un profilo non unicamente improntato alla brutalità fulminante, concedendosi qualche bel rallentamento ("From The Darkness Below", "In Nomine Satanas"), efficace tanto quanto i passaggi più sfrenati. Nessuna novità, invece, riguardo l'utilizzo delle voci: il solito scream grattatissimo di cui ci si può solo accontentare, ben eseguito ma fin troppo comune.
I Manticore hanno trovato il modo di dare un degno proseguimento alla loro discografia con un album aggressivo, furioso e viscerale, che riesce a convincere pur senza raggiungere livelli eccezionali. Un buon ritorno, insomma, sicuramente superiore a diversi dischi usciti nel 2012 ormai passato, considerando anche che una certa esperienza dà sempre qualche vantaggio.
Tracklist
01. Behold The Ascension Of The Execrated
02. From The Darkness Below
03. Abhorrent Baptism In The Vestal Cavity
04. Procession To Possession
05. Denying The Resurrection
06. Torn Apart By Hate
07. In Nomine Satanas
08. Filth Upon Filth
09. Abolished Holy Conceit