Léa Roger (Guili Guili Goulag, Félon) – English Version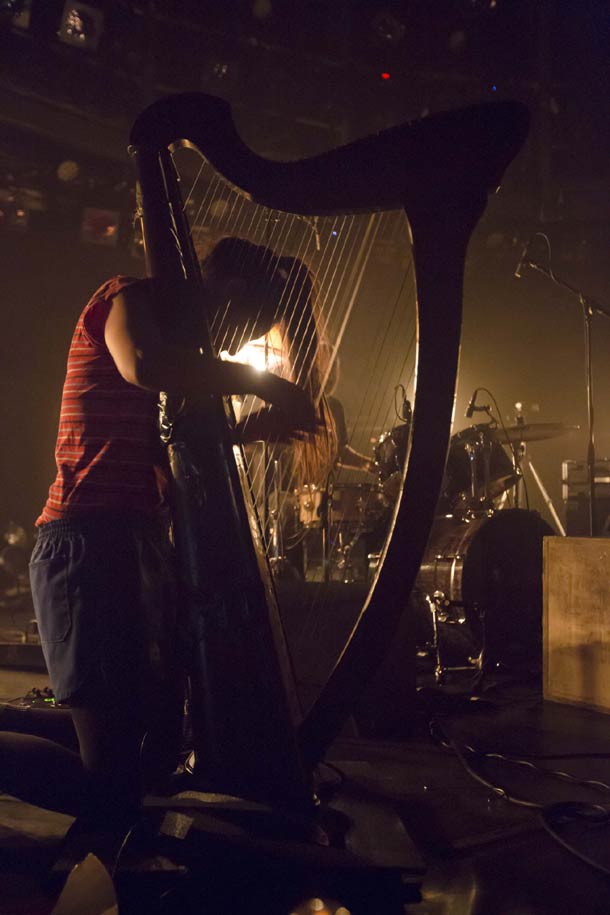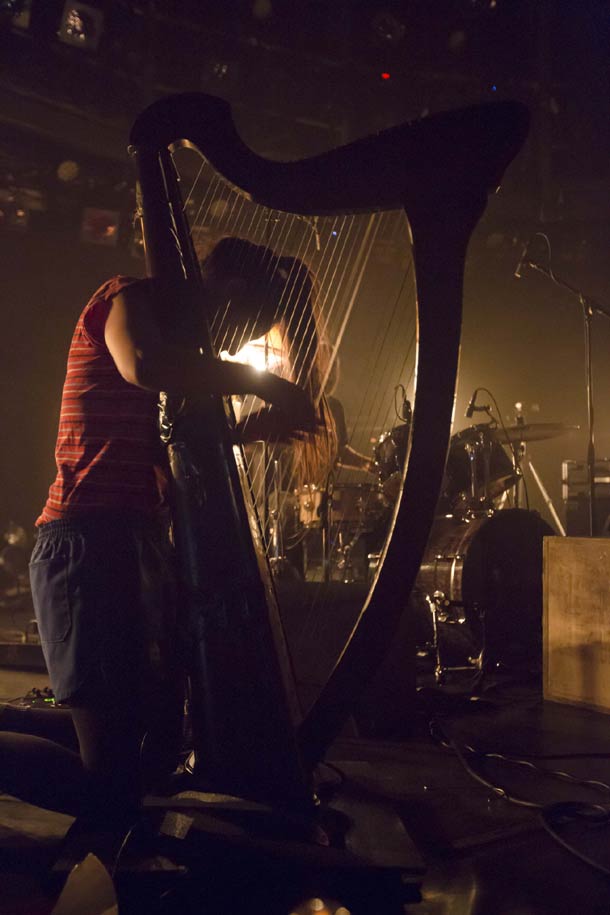 Brussels is the city where everything blends; the first time I met Léa was at Barlok more than a year ago during my tour with DJ Balli, now that I live here I had the chance to see her acts live, and after seeing her first appearance as Félon, always at Barlok, I decided that it was important to write something about her music.
It was a Monday night, the 5th of December. As usual in Barlok people were meeting, chatting and having some beers, one of the three bands had a problem and couldn't make it to the gig, so it was just Félon and Seabuckthorn (an acoustic act for guitar). Léa's show consisted in a set for prepared harp, of course an unusual instrument to see in this kind of situations, but its not this oddity that made things interesting. The harp had a chain threw its strings, a visual and sonic mindfuck that proved to work perfectly. As soon as the strings were tingled the sound coming out from them presented a distorted reality, like if they were played long ago in time and trespassed directly to that gig. In fact distortions and the preparation of the harp gave me the same sensation as when I hear someone in a village playing his old instrument, not every sound is perfect, some notes bend to the collapsing structure of the ancient object that generates them, but the atmosphere is pure and completely embalmed, this is what actually Félon was doing, a personal folkloristic gig to translate her experience. The Harp had been stroked, played and related with Léa in many ways. Since there was no closing act, the concert found an end with a collaboration between the two musicians that had already played, harp and guitar for a last transcendental bite to music.
10 days later at BRASS Guili Guili Goulag is closing the concert for The Wild Classical Music Ensemble (opened by Clément Nourry). After the savage and incredibly powerful concert by TWCME the night gets more psychedelic, the GGG trio is giving all and people are willing to dance. The tribal rock rhythms are helped by the bass to give them strength and everything is sharpened by the cutting glassy experiments on the harp. Also here the instrument gets hit with drumsticks and the microphone is used both for the voice and the harp: a loop of self vanishing sounds makes us loose our way in a compendium of rhythmic sonic noise rock. The public is reacting and soon the hole room is full of energy that Guili Guili Goulag collect to transform it into a very well played psychedelic gig.
I then decided to ask them some questions.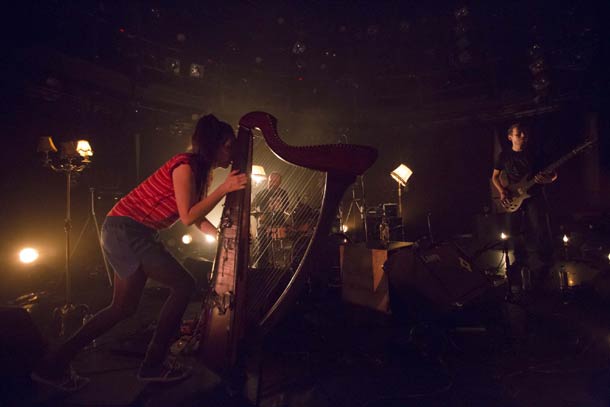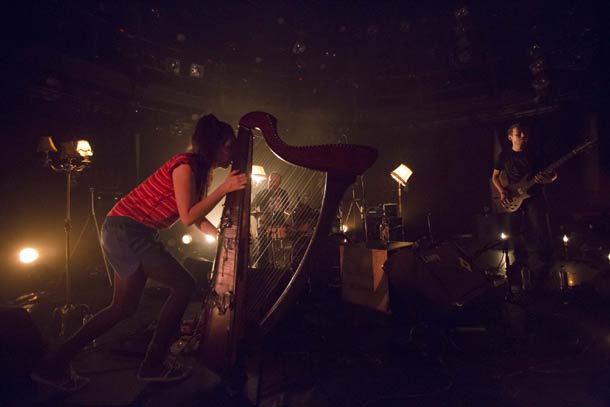 Let's start from the name of Guili Guili Goulag
Well there's no "explanations"… we wanted to create a contrast between something funny and something awful in French, "guili guili" is a childish word for "tickles").
In your music a very addictive rhythmical structure helps the harp to create sound illusions in which you can loose yourself, what's the story behind the choosing of this instrument and how did it deal with the rest of the band?
I (Léa) started harp when I was 7. I was raised in Brittany where I attended a music school for Celtic harp and also the conservatory. After my studies, I couldn't find anything that really interested me with this instrument. I wanted to experiment and to play different styles but I couldn't find a proper way to do it.. so I stopped playing for 3 years and then I met Matthieu (the drummer). The harp wasn't a "decision" for the band. At the time, Mathieu and I lived in Paris and we were involved in the same electronic music scene. He didn't know that I played the harp but when he found out he was very enthusiast and we started to play together.
As I said I wasn't really happy about what I achieved with this instrument during my studies, but playing with Matthieu was so addicting that I quickly had blisters on my fingers. We started with free jazz, we just wanted to play loud and we had no idea of what could came out. I didn't know what could happen with a harp so we improvised and experimented. I was just pushing the instrument's limits further to see what were its true possibilities. Soon other people joined us, Rozette, a female singer ; who sings on the first EP, and Hubert the bass player, who is also a sound engineer and has improved the sound of the harp and solved some feedback issues.
Guili Guili Goulag is about creating sounds, moods, texture, patterns and structure these elements together. We never build our songs from preconceived ideas, it is always about experimenting and trying and it starts with improvisation.
Your Ep and LP are produced by various labels, as in pure punk attitude, in fact some of these labels, I think for example at Vollmer, are dedicated to more extreme punk music, what is your relationship with punk culture and attitude
One of us used to live in squats in Paris and to play in punk bands so that's actually one of our link with the punk scene. Although we really like this scene, we are not "punks" and we are not doing something politically engaged … unless you consider that raw sounds, experimentations and musical curiosity is political (we think it is). I would also add that we are involved in an alternative scene, we do play (almost) everywhere, and we do have a DIY and autonomous way of doing things
What is Brussels for GGG?
Everyone in the band has something different to say about this city. I, Léa, think about Brussels as a very welcoming city, and for the band it has been really nice to settle here because it is easy to find space and venues to rehearse and to play. In Paris all of this is very complicated. Also, here you have a lot of different bands from different backgrounds, with different musical genres and sounds, that mix together, this blending is something very typical of Brussels and it's very enriching.
Why did you decide to explore  music with a one man band (Félon)?
I decided to play Félon alone because I wanted to be more comfortable in doing my own stuff. Its wonderful for me to play in bands but I can't use all the sounds I like, for example the loudness of other instruments could be an issue. I work a lot with less noisy sounds and this needs to be separated from anything else to be perfectly expressed. But also, I wanted to experiment the improvisation in solo, based on repetitive little kernel that I develop through time
What are the diversities from the way you play the harp in GGG and Félon? I noticed a chain threw the strings and a more melancholic attitude
Felon is a different approach to my instrument, it is based on improvisation and sound design. In GGG my sounds must fit with the other instruments (bass and drum). It is different in Felon, I am alone and I try to pay more attention to micro-variations in sound. It is close to the minimalist approach, I am searching movement in the rhythm and the beat.
I am creating sounds and this process of creation is also part of the music, just like improvised music does. It is a new project, my live sets duration is more or less 25 minutes during which I try to create an imaginary folklore, or a sort of experimental traditional music non-idiomatic. I am also influenced by minimalist composers like Terry Riley or Pauline Oliveros and different old traditional musicians from the different parts of the world.
How was Barlok born and how did it evolve? How did it become such a malLéable place?
There were several associations in Brussels (venues, art galleries…) which closed all at once. Our friend Stephane managed to obtain an authorization to occupy this big warehouse and gathered these associations. The aim of this project was to create a place dedicated to experimentation in all its forms, we wanted a place where different type of music and arts could gather and react to each other.
What is happening with Barlok right now?
We knew from the start that the project was doomed and that the buildings (Barlok, Magasin 4 and Allée du Kaai) will be destroyed in 2018… but we knew that since the beginning of our occupation. In the meantime we are happy to have a place where we could do whatever we want and organize parties, concerts and exhibitions… I guess that in a consumer society such as ours, it is important to preserve these spaces which witness another way of doing art and music and events related to art and music.
Which do you think are the must-listen bruxelles based bands today?
Why the Eye, Accou, Facteur Cheval, Rraouhhh, Carrageenan, Lemons, Vitas Guerulaitis, Bear Bones Lay Low, Tav Exotic, Pizza Noise Mafia, Mon Alberteen, Exoterrism, Yersinia Pestis.