Jlin, Godflesh, Juan Atkins, Tim Hecker e molti altri all'austriaco Heart Of Noise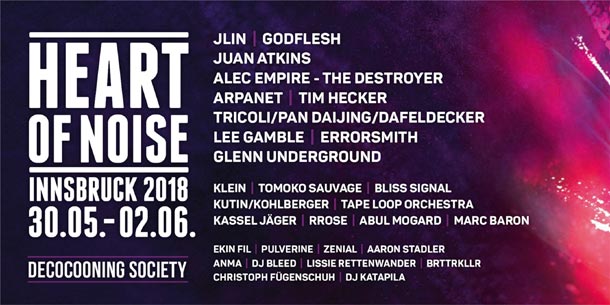 L'edizione 2018 dell'austriaco (Innsbruck) Heart Of Noise vedrà si svolgerà da mercoledì 30 maggio a sabato 2 giugno e ospiterà questi artisti (linkiamo quelli di cui ci siamo occupati con recensioni e interviste):
JLIN
GODFLESH
JUAN ATKINS
ALEC EMPIRE – THE DESTROYER
ARPANET
TIM HECKER
LEE GAMBLE
ERRORSMITH
THE SPEAKER feat. VALERIO TRICOLI / PAN DAIJING/ WERNER DAFELDECKER
GLENN UNDERGROUND
KLEIN
TOMOKO SAUVAGE
BLISS SIGNAL
K&K KUTIN/KOHLBERGER
TAPE LOOP ORCHESTRA
KASSEL JAEGER
RROSE
ABUL MOGARD
MARC BARON
EKIN FIL
PULVERINE
ZENIAL
AARON STADLER
LISSIE RETTENWANDERANMA
BRTTRKLLR
CHRISTOPH FÜGENSCHUH
DJ KATAPILA
DJ BLEED
A questo link è possibile vedere l'ordine di esibizione di questi artisti nel corso dei quattro giorni di un festival che – nelle parole del suo ufficio stampa – si chiede se esiste un futuro dell'arte che vada oltre alla distinzione tra "serietà" e "intrattenimento". In questo specifico contesto vengono tematizzate le diverse relazioni tra tecnologia, cultura musicale e percezione del contemporaneo, l'emancipazione e la rivalutazione di culture underground, di nicchie e movimenti innovativi soprattutto nella rivalutazione di luoghi comuni dove la musica viene generalmente intesa nella sua dimensione di generi musicali o come una strategia di mercato.