GO!FEST (25 ottobre al Bencivenga Squat, Roma)
Riceviamo da uno dei soliti sospetti e pubblichiamo.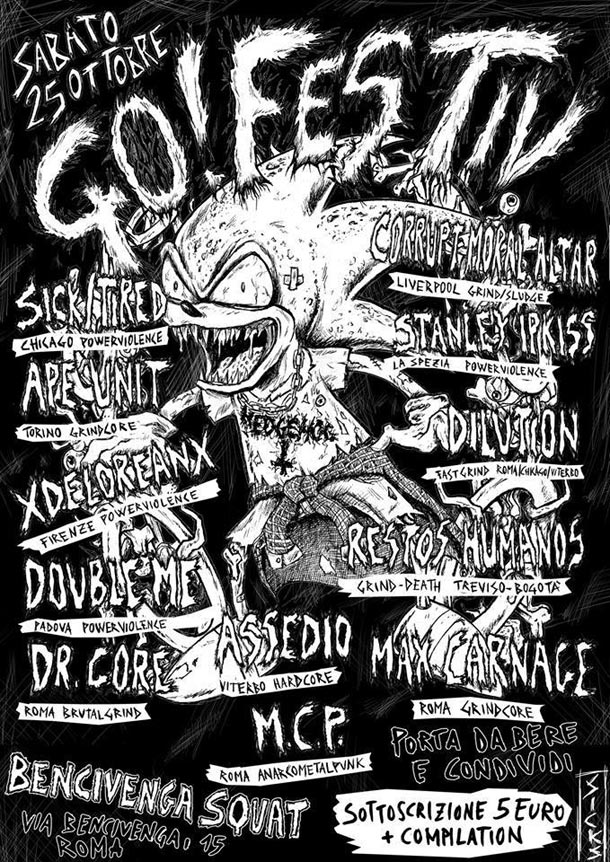 Wizard Of Noise Records, Badfeeling Records & Clamore Events proudly present:
GO!FEST IV
SICK/TIRED – Powerviolence heroes from Chicago, USA, contro i nazisti dell'Illinois(e)
CORRUPT MORAL ALTAR – Grind/sludge/crust da Liverpool, se venite alle cinque vi offrono il tè
APE UNIT – Grindcore Torino, si divertono a fare casino
STANLEY IPKISS – Fastcore da La Spezia, c'è il Macca che ci suona quindi allegria
DILUTION – Giovani romani, viterbesi e foggiani + cantante dei Sick/Tired dentro
xDELOREANx – Powerviolence da Firenze con membri di Carlos Dunga e Nido Di Vespe
DOUBLE ME – Powerviolence da Padova incazzato e oscuro
RESTOS HUMANOS – Death/grind da Treviso/Bogotà con i morti che escono dalle casse
DR.GORE – Brutal con tratti grind locale
ASSEDIO – Tropical Hardcore da Betlemme, Viterbo
MAX CARNAGE – Fastgrindcore nel nome della simpatia
M.C.P – Metalpunk romano, al ritorno dopo un anno di fancazzismo
25 OTTOBRE 2014
Ingresso 5 Euro, con in regalo una compilation che include tutti i gruppi presenti.
Ci saranno queste distro: Wizard Of Noise Records, Ra Records, Here And Now Records, Suicide Autoproduzioni, Punti Scena Records, Obdura Distro.
Su Facebook, logicamente, c'è l'evento aggiornato in tempo reale.