Gennaio 2017 al Tetris (TS)
Riceviamo dal nice & friendly DIY club triestino e pubblichiamo.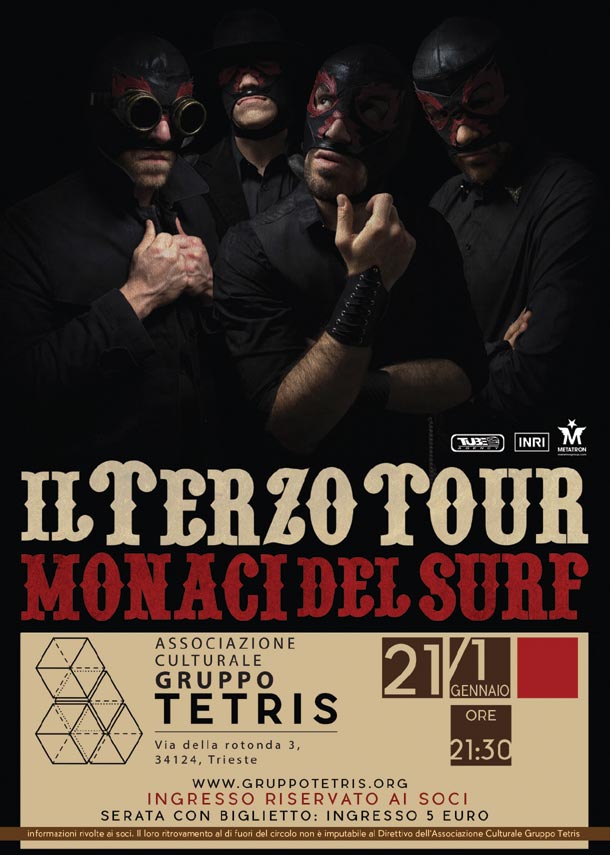 GIO 5 GEN – FALSE LIGHT [grindcore, USA] + DISCOMFORT [blackened hc, IT]
Con alle spalle uno split assieme, seguito da un tour negli USA, arrivano da noi due delle band più scorticanti e malate in circolazione.
VEN 6 GEN – STOP THE WHEEL (campfire R&B, IT) + LaLou & DiPi djset
STOP THE WHEEL è Francesco Candura, che conoscerete grazie agli esploratori psych/avant-pop Jennifer Gentle. Candura descrive questo suo progetto come "campfire R&B" o "weirdo folk" e si serve di un quattro tracce, della chitarra acustica e dello scarno essenziale per creare canzoni post-pop che ti entrano subito in testa.
SAB 7 GEN – Licht und Blindheit presenta FRANCIS AND THE PHANTOMS (new wave, UD)
Licht und Blindheit torna a casa. Prima il raffinatissimo, malinconico, suadente post-punk di Francis and the Phantoms, dopo una notte di dark, punk, post punk, new wave, elettronica, EBM e tanto altro con le sapienti scelte di Felixxx (from pLaStiK!) e di Cosmo Cocktail (Licht und Blindheit).
VEN 13 GEN – ATTILA & MIGHTY CEZ (reggae showcase, MI/VE) + Burnin' Fyah
La tradizione del reggae, la potenza della dancehall e la metrica dell' hip-hop, questi sono i tre elementi che contraddistinguono il sound di ATTILA ed impreziosiscono il suo disco "You Neva Know Me". Questa volta ingresso gratuito (come sempre riservato ai soci).
SAB 14 GEN – MORKOBOT (origami-noiserock, LO)
"MoRkObOt are a feast for the ears and GoRgO is an effervescent cocktail of metal heaviosity, befuddling complexity and giddy punk intensity" (Jamie Jones, Echoes And Dust)
VEN 20 GEN – THE YELLOW BUZZ (rock and roll, HR)
Qui non si parla di avanguardie e accelerazionismi, perché per portarci a letto agli Yellow Buzz bastano un palco e un mix di rock primigenio, blues, sporcizia, tiro e anche un paio di ballad ubriache.
SAB 21 – MONACI DEL SURF (surf rock, IT)
L'anno scorso fu sold out. A questo giro i Monaci del Surf hanno anche un nuovo album, il loro terzo, da farvi sentire. È previsto un biglietto di 5 Euro.
DOM 22 – MERCATINO
Your nice & friendly DIY Bazaar.
VEN 27 – MARNERO (postcore, BO) + LUDMILLA SPLEEN (noiserock, BO)
Questa sera i Marnero, sette anni dopo il primo passaggio dalle nostre parti, ci porteranno al largo con "La Malora", capitolo conclusivo della loro "trilogia del fallimento". Il macchinario noiserock dei Ludmilla Spleen rimanda a band milanesi dei Novanta come Six Minute War Madness, A Short Apnea e Uncode Duello.
SAB 28 – MORDAX (hc / d-beat, MI) + BLOCKHEADS (old school hc, PU)
Classico appuntamento organizzato da Hardcore Underground: punk, hardcore, d-beat, old school attitude.