EUGENOISE / THE LAY LLAMAS, Split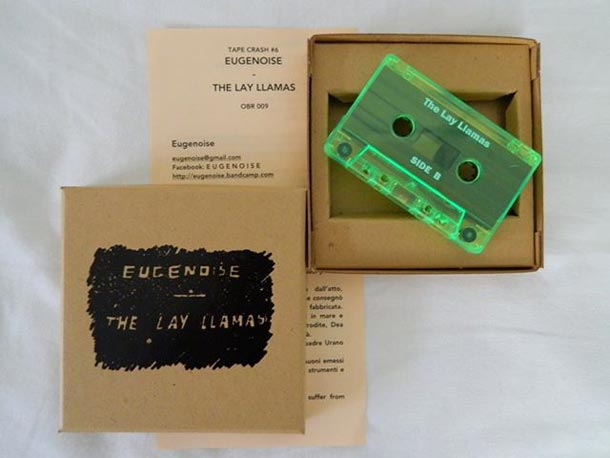 Cassetta divisa in due per la serie "Tape Crash", questa per la svizzera Old Bicycle Records di Vasco Viviani. Dietro Eugenoise c'è appunto Eugenio Luciano, sodale di Nicola Giunta (nostro collaboratore), che invece si cela dietro il progetto The Lay Llamas, coadiuvato da Guido Broglio e Gioele Valenti/HERSELF.
Subito balza all'occhio un elemento: l'artwork è quanto di più ricercato e al contempo pauperista ci possa essere al giorno d'oggi; tape racchiusa in spesso cartone con dentro un pezzetto di carta dal taglio obliquo che assolve al compito di spiegare per sommi capi i pezzi, non manca poi un altro foglietto a mo' di tazebao che si concentra sugli aspetti tecnici delle due proposte. Cosa si ascolta? È presto detto. Sferragliante industrial noise per il primo nel lato A: l'evocativa "Cape Drepano" è mare inquieto dove si mettono in pratica i precetti di quello specifico linguaggio (vedi anche alla voce terrorismo sonico) che continua a deragliare con convinzione nel pezzo successivo, la lunga ed estenuante "Insect Warfare", mentre nel lato opposto The Lay Llamas lavora di fino e spariglia le carte con discreta nonchalance. I suoi pezzi sono come caramelle colorate immerse nella trielina, quindi soavemente psych (la marcetta di "A New Beginning"), costellate di percussioni delicate e striature chitarristiche, miscelate come in un cocktail ad alta gradazione alcolica ("Back To Planet Heart"). In pratica si ha la netta sensazione di assistere ad una coscienziosa rilettura della materia kraut, persa nel sole accecante dei Peaking Lights.
Esotico ed interessante, e giusto contraltare alle malie electro di Eugenoise.
Tracklist
Side A
01. Cape Drepano
02. Insect Warfare
Side B
01. Beyond Time And Space
02. Back To Planet Earth
03. Desert Of The Lost Souls
04. Down To The Underworld
05. A New Beginning