End Of A Season, Panzer, Cinderella's Leprosy e (A)Toll il 4 e il 5 ottobre al Glue-Lab
Supportiamo i nostri amici del Glue-Lab, che in programmazione hanno un sacco di cose che ci interessano. Entrambi gli eventi iniziano alle nove e mezzo di sera e serve la tessera ARCI per entrare.
(…) quella proposta dalla formazione è una micidiale miscela a base di postcore, grind, slabbrature e esplosioni sonore affogate da una coltre di nichilismo che attualmente teme ben pochi rivali. Ciliegina sulla torta o, meglio, punta cava del proiettile da cinquanta, sono le vocals di Marcella (No Somos Nada, Egotismo, Killerkoala, la label The Fucking Clinica…), che fuoriescono come carne viva dalle ferite sonore, a rendere ancora più irresistibile un nome che oggi si assicura un posto in pole position nel panorama estremo – non solo – nazionale.
Michele Giorgi sugli End Of A Season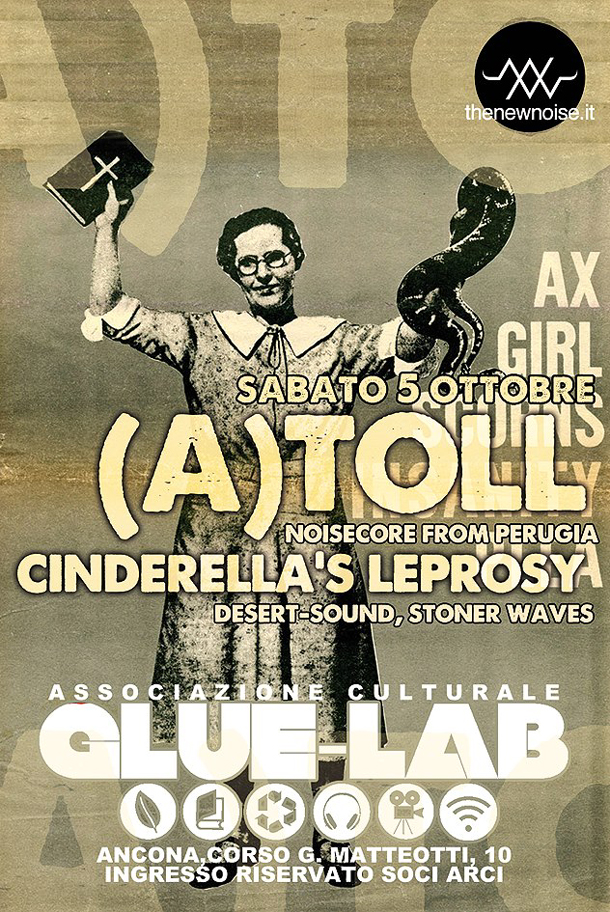 Otto rasoiate noise-rock dalla forte impronta hardcore, figlie tanto degli Unsane quanto dei Breach, permeate dal mood postcore più attuale e perfettamente a proprio agio nell'anno in cui il rumore sembra tornato ad infiltrarsi tra le pieghe di estremismi più o meno contigui.
Michele Giorgi sugli (A)Toll