BLIND THORNS, Blind Thorns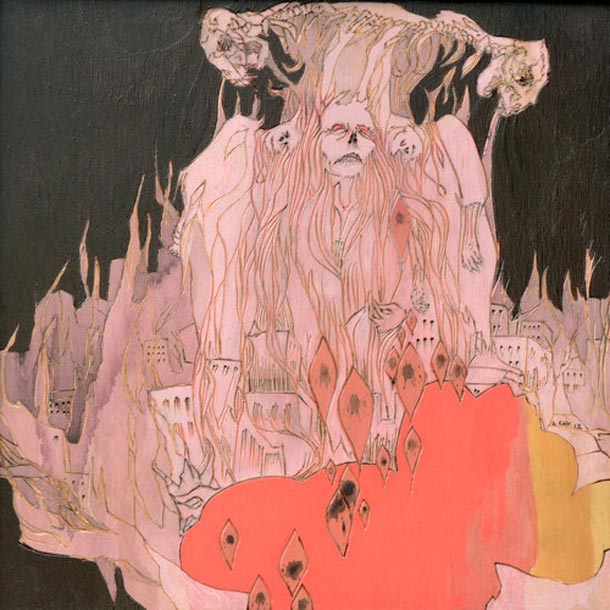 Sono in tre, due membri degli Ahleuchatistas, progetto tra math rock e istanze "avant" (hanno pubblicato per Tzadik e Cuneiform), ed Antoine Läng (viene dalla Insub Meta Orchestra), e fanno il loro esordio con quest'album che ci riserva più di qualche sorpresa. Doverosa una premessa: qui i cosiddetti "generi" non esistono, nel senso che risulta difficile provare a catalogare quello che si ascolta, siamo insomma di fronte a una messe impressionante di chiavi di lettura. Parlo di quello che c'è (e che ho trovato) nelle composizioni: una sarabanda di rumori e dissonanze, le più disparate, vedi le cinematiche e horror "Blindfolded Sleeplessness" e i sospiri mefitici di "An Explanation Of The Birds", mentre "Engulfing The Epigone" stravolge ancora di più il gioco, provocando seri incubi in chi ha il coraggio di imbattersi in tale scellerato rituale noise. La lunga "Gambling With The Wrong Dice", divisa più o meno in due "movimenti", è poi un'infernale macchina sparatutto che mescola tribalismi, ascendenze industrial e miasmi "bruitisti" cari a certi Boredoms ed Einstürzende Neubauten (bei tempi quelli, perdonate l'inevitabile nostalgia), col finale che è una tempesta perfetta di rumore bianco. Gli strumenti a loro disposizione sono i soliti (chitarra, batteria ed elettronica), e i tre ci sanno fare. Lo dimostrano ancora meglio nella breve "Orbital", una scatarrata convulsa degna di un gruppo death che si cimenta con la surf music, e va da sé che la cosa è quasi geniale. La chiusura è poi uno scontro tra la voce tutta grugniti di Läng e le percussioni dei compagni, a compiere una sorta di orgiastico (ed esotico) baccanale dai suoni gioiosamente impazziti. Se siete dell'umore giusto, vi garantisco che vi divertirete.
Al momento sono in tour in Italia.