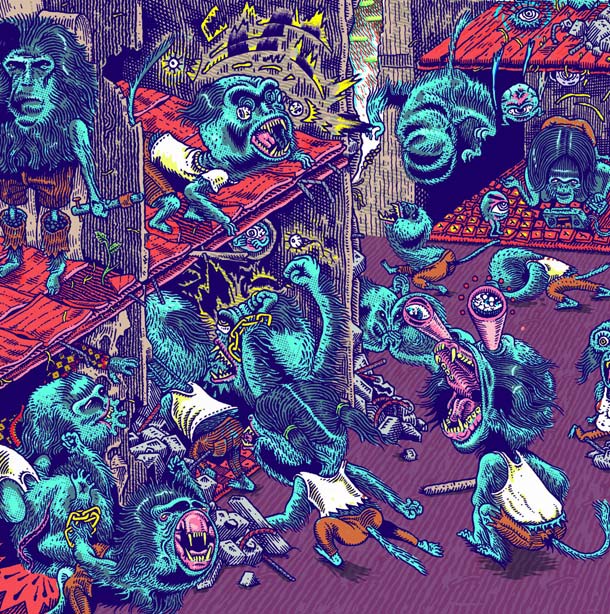 Uno dei gruppi grindcore più promettenti del nostro Paese sono gli Ape Unit. Attivi dal 2008 e nati da una costola dei Septycal Gorge (anzi due, visto che condividono cantante, Mariano Somà, e chitarrista, Marco Los), sono la risposta piemontese alla commistione di generi tipica della frangia più moderna del genere. I nomi che tentano di fondere grind, powerviolence, math rock, noise, hardcore e influenze varie sono sempre di più e ottengono spesso risultati desolanti, mentre il quartetto piemontese sembra avere diverse cartucce da sparare, l'ultima delle quali va ben oltre quanto fatto sinora: a tre anni di distanza dal debutto Unforgivable Holidays (sotto Grindpromotion), esce Turd, loro secondo album, che pare nascere con l'intento di rivedere e migliorare le idee contenute in un esordio buono, ma ancora un po' acerbo, nel quale le componenti dell'Ape Unit sound dovevano trovare ancora un ordine ben preciso.
Con questo nuovo capitolo i ragazzi sono riusciti a ottenere un suono corposo, aggressivo, che rende giustizia alle loro influenze e alla loro creatività. Grazie a una produzione di gran lunga superiore a quelle passate, infatti, Turd si presenta come il meglio del grindcore italiano moderno, ricco di spunti e competitivo con gli europei, come si capisce sin dall'iniziale "Puberal Baphomet". La vena umoristica nei testi è rimasta ("The Will To Smith", "Children Of Boredom", "Go Kart Cobain"), così come la componente noise (non nel senso di noisecore, attenzione) nei riff, questa volta dissonanti e alienanti come non mai, mentre le parti vocali di Mariano Somà mostrano meno il suo background brutal, dato che non si sentono più pig squeal e affini.
Coi suoi soli 10 minuti di durata, Turd è un disco che farà contenti gli amanti di queste sonorità, specie chi è in cerca di nuovi nomi da ascoltare. Gli Ape Unit, oltretutto, dal vivo sono delle vere e proprie macchine da guerra, tanto che hanno avuto anche l'onore di suonare all'Obscene Extreme nel 2013: speriamo che questo nuovo album li porti ancora di più in giro, per l'Europa e oltre.