Night Shift, puntata 197 (Knup!)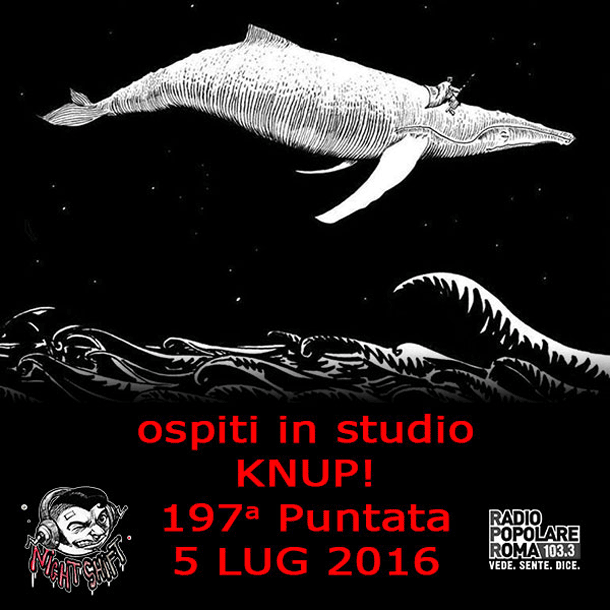 Continuano le puntate all'aperto e questa volta ci siamo gustati il fresco e la griglia accompagnati dalle sonorità jazz-rock dei Knup!, che con la formazione classica del trio jazz si dedica alla ricerca di suoni elettrici e propone un'innovativa commistione tra jazz, rock, punk ed elementi grunge attraverso l'uso di effetti elettronici e multitrack recording.
Playlist
01. 5 Star R'n'R – The 101ers
02. L'ordine delle cose – Knup!
03. Fell On Black Days – Soundgarden
04. Nationwide – Brutal Juice
05. Film – Knup!
06. Genesis – Firth Of Fifth
07. Ballad For A Snowdrop – Francesco De Palma Trio
08. Knup! – Knup!
09. Peace Frog (The Doors cover) live – Luca Aquino
10. Seven Minute Mind – The Bad Plus
11. Coniglio bianco – Knup!
12. Malika – Hiatus Kaiyote
13. Inedito – NoHayBanda
14. Kira – Knup!
15. Go With The Flow – Queens Of The Stone Age
16. Lonely Woman – Ornette Coleman
Night Shift
In onda ogni martedì a partire dalle 22:30 sui 103.3 FM di Radio Popolare Roma e in streaming su
radiopopolareroma.it
.
Contenitore musicale notturno che punta alla messa in circolo delle sonorità meno diffuse nell'etere romano. Grande attenzione è rivolta alle band underground nostrane, che vengono invitate a raccontarsi proponendo la loro musica e quella delle loro origini.