Volumorama #3 – Bachi Da Pietra / The Shipwreck Bag Show [+ full album stream]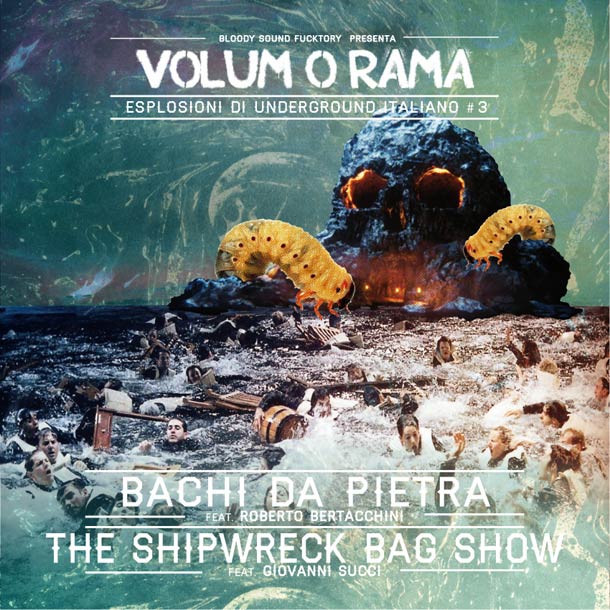 Terzo episodio per la serie Volumorama della Bloody Sound Fucktory. One shot particolarmente virulento nei suoni e "bastardo" nella forma scelta: i primi sostituiscono il cantante con quello dei secondi e viceversa. Roberto Bertacchini, dunque, si cimenta in "Figli Dei Giorni Silenziosi", un blues nel quale innesta il solito, folle salmodiare fanciullesco sopra le basi rigide e notturne della coppia Dorella/Succi, che colpiscono il segno. Giovanni Succi stesso si perde e si contorce in una veloce pantomima rock and roll ("Roccia") al limite del ridicolo, nel senso letterale del termine, viene da pensarlo quando lo senti che sforza di proposito le corde vocali, proprio come farebbe il Manuel Agnelli di turno (o forse l'Edda più disperato?) con sotto una base di rumori da far quasi spavento, tanto è lancinante la coltre di feedback (qui Xabier Iriondo ci dà parecchio dentro grazie al melobar, sorta di lap steel "preparata"…). I collezionisti di questo tipo di progetti sono avvisati.
Noi intanto vi diamo la possibilità di ascoltarlo come si deve per un periodo di tempo limitato.