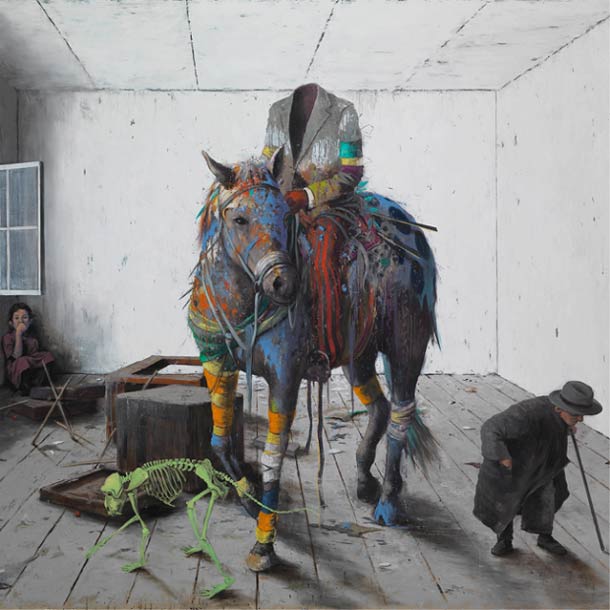 Sette anni dopo l'uscita di Where Did The Night Fall (Surrender All, 2010), l'universo UNKLE si restringe intorno al solo James Lavelle, dj/produttore e autentico deus ex machina del collettivo e della storica etichetta britannica Mo Wax, che ha accompagnato e plasmato la schizofrenica visione musicale degli UNKLE. Visione in grado di mescolare hip-hop e trip-hop, techno di Detroit, house music, elementi di musica classica, senza tralasciare la passione per la fantascienza (Do Androids Dream Of Electric Beats?, 2002) e il mondo delle colonne sonore (End Titles… Stories For Film, 2008).
Sempre a favore della contaminazione, Lavelle non teme il rischio di ripetersi e chiama a sé una serie di ospiti eccezionali per questo The Road: Part I, fortemente ispirato al romanzo apocalittico "The Road" di Cormac McCarthy. La storia è quella di uomo e di un bambino che si ritrovano a camminare tra le rovine e la fatiscenza di un'America devastata da un'imprecisata calamità naturale, costantemente in fuga dai pericoli e in cerca di un clima meno ostile.
In apertura una solenne "Iter I: Have You Looked At Yourself", accompagnata dalla voce dell'attore scozzese Brian Cox, che chiede: Have you looked at yourself? And have you thought about the mistakes you've made? And the road you've walked?. Questa è la prima delle cinque tappe che fungono da collante per l'intero disco, che danno un senso al racconto e introducono le tematiche inerenti l'esplorazione dello spazio e del tempo fuori e dentro i personaggi (o magari dentro loro stessi…), alla ricerca della direzione giusta da prendere. L'approccio che la musica predilige è quello delle sonorità intense e crescenti come in "Looking For The Rain", cantata dalla profetica voce di Mark Lanegan; o come nella successiva "Cowboys Or Indians", interpretata dal rapper Elliott Power insieme a Mïnk e YSÉE, con un approccio che va dal trip-hop Tricky-style allo spirito trasognato di Moby. In mezzo, ci sono le derive soul di "Stole Enough", con Mink, i drammatici cambi d'umore dell'introverso folk-singer Keaton Henson in "Sonata", seguita dalla title-track "The Road" (ft ESKA), che inizia con un delicato arpeggio di chitarra sotto le cui spoglie aleggiano i Beatles più psichedelici, quelli di Sgt. Pepper's Lonely Hearts Club Band.
A chiudere il disco, la parentesi spudoratamente dream-pop di "Sunrise (Always Come Around)", con la voce di Leila Moss (The Duke Spirit), e ancora il londinese Keaton Henson a cullarci con le ritmiche rallentate di "Sick Lullaby" (con echi di Radiohead, soprattutto nelle linee vocali).
The Road: Part I, oltre a essere un lavoro coerente e coeso, è l'ennesima conferma del talento di Lavelle nel saper orchestrare (e trarre il meglio da) ogni artista che viene coinvolto nel suo progetto.
Tracklist
01. Iter I: Have You Looked At Yourself
02. Farewell
03. Looking For The Rain
04. Cowboys Or Indians
05. Iter II: How Do You Feel
06. Nowhere To Run/Bandits
07. Iter III: Keep On Runnin'
08. Stole Enough
09. Arm's Length
10. Iter IV: We Are Stardust
11. Sonata
12. The Road
13. Iter V: Friend Or Foe
14. Sunrise (Always Come Around)
15. Sick Lullaby