TREHA SEKTORI / RM74 / BARST, Tri Muerti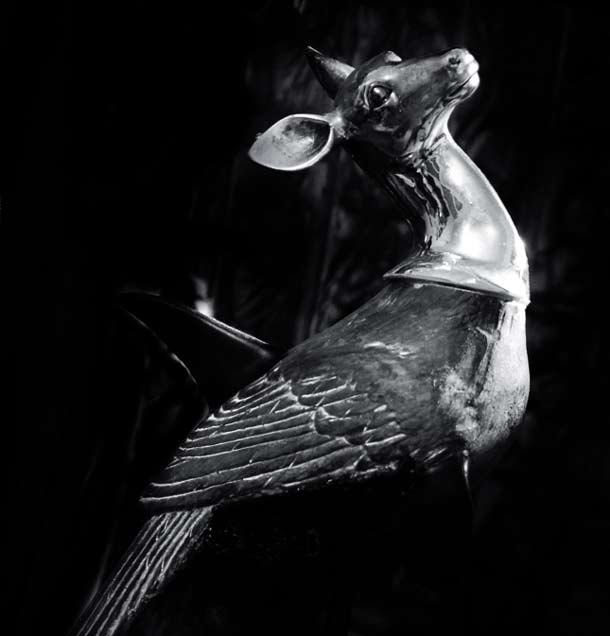 Consouling Sounds ha messo insieme tre artisti per quest'uscita pubblicata il 15 agosto in concomitanza di un evento speciale (numero di spettatori limitato, luogo tenuto segreto) in Belgio (Consouling è di Gand, o Gent che dir si voglia), chiamato Garden of Drones.
Treha Sektori è il nom de plume di Dehn Sora, che qualcuno conoscerà per le sue collaborazioni col giro degli Amenra. Viene pubblicato da Cyclic Law e questo già chiarisce di cosa si occupa. Barst è belga ed è in buona sostanza un esordiente, mentre RM74, cioè Reto Mäder, è già finito più volte sulle nostre pagine, anche grazie al suo lavoro con Sum Of R e altri progetti. La presenza di Mäder genera sempre grosse aspettative, dato che ha creato una serie di progetti all'incrocio buio tra ambient, industrial, noise e doom che non trovano corrispondenza altrove, un specie di unicum ottenuto grazie a un incredibile eclettismo. Sicuramente qui, presumo per la presenza di Treha Sektori, tutto acquisisce un che di solenne e sacrale, forse addirittura marziale (nient'affatto una novità, sia chiaro), basta osservare l'uso delle percussioni: nel primo pezzo ("Tu Nel") la fusione tra queste, il drone e la chitarra in tremolo è molto efficace. Altrettanto efficace è l'atmosfera di "A Sweet Masquerade": all'inizio passano l'archetto (probabilmente) su una chitarra, in probabile sintonia con tutto il dolore del mondo, poi ricomincia l'incedere ieratico, in un crescendo che culmina con l'ingresso della chitarra elettrica al massimo volume, tanto che potrebbe trattarsi quasi di un brano apocrifo dei Locrian di The Crystal World. Sulle stesse coordinate anche la breve (rispetto al resto) chiusura di "With Sermons".
Non in cima alla lista degli acquisti, ma se fate qualche ordine grosso e lo vedete, mettetelo serenamente nel carrello.
A oggi "With Sermons" è in ascolto qui.
Tracklist
01. Tu Nel
02. Sweet Masquerade
03. With Sermons