The Rita e altri il 17 novembre a Dolomia Noise Wall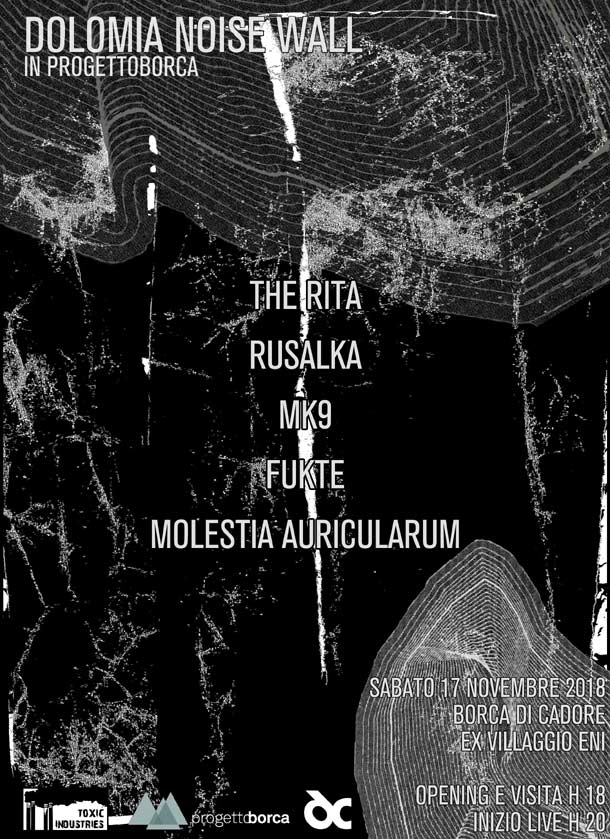 L'etichetta Toxic Industries (Belluno), assieme a Dolomiti Contemporanee (laboratorio d'arti visive in ambiente), organizza il secondo appuntamento con Dolomia Noise Wall, che avrà luogo alla Colonia dell'ex villaggio ENI di Borca di Cadore.
A suonare saranno tre progetti canadesi e due italiani:
The Rita: internazionalmente riconosciuto come il padre putativo dell'HNW; attivo da oltre vent'anni con centinaia di concerti e release alle spalle risulta essere uno degli act più prolifici del frangente più estremo del "genere" noise.
MK9: progetto audio/visivo di Michael Nine (già Death squad), che in questa nuova forma indaga i vari aspetti della psiche umana attraverso video proiezioni e complesse costruzioni audio.
Rusalka: il lavoro di Kate Rissiek oscilla dai wall più crudi all'incorporeità dell'elettromagnetismo, andando a scavare nel subconscio e nei recessi più bui della natura umana.
Per quanto riguarda i due italiani, è previsto un  set collaborativo e site specific di Fukte e Molestia Auricularum, che comprenderà l'uso di oggetti ritrovati all'interno dello spazio Progettoborca.
Dolomia Noise Wall in Progettoborca
DATA: 17/11/2018
LOCATION: Borca di Cadore (BL), IT @ ex Villaggio ENI
In collaborazione con Dolomiti Contemporanee e Progettoborca.
h 18:00 – Apertura con possibilità di visita alla colonia dell'ex Villaggio ENI.
h 20:00 – Inizio performance.
Si inizia presto, si finisce presto, quindi venire puntuali.
Farà freddo.