THE PROVINCIALS, Provolone Records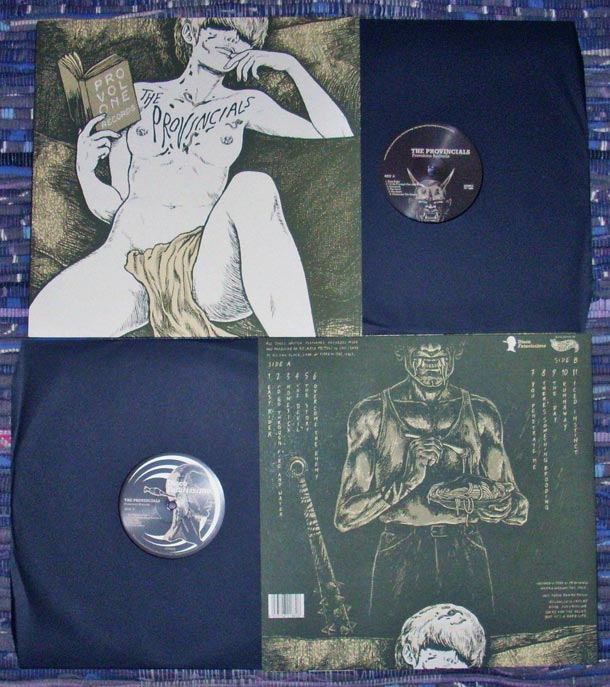 Che dire? Questa manciata di pezzi esprime più vitalità dell'intera discografia di un qualsiasi gruppo "indie" del momento che ammorba il nostro Paese (per fortuna esistono anche cose notevoli, è il caso di ribadirlo). The Provincials (che è moniker meno scontato di quello che sembra) è entità a sé stante nata dalla mente del musicista campano Rosario Memoli (già nei The Wild Week-End), appassionato di garage e lo-fi, che ci presenta una selezione delle sue creazioni (registrate con pochissimi mezzi a disposizione). E che canzoni, poi: "I'd Go Through Fire And Water" sarebbe capace di far resuscitare i morti, "There's Something Brooding" ha una chitarra killer (è praticamente perfetta), mentre "Homesick" è come Bob Log che sta bruciando ebete davanti a noi, ed il classico giro di chitarra di "You Penetrate Me" è pensato e scritto da manuale. Pure la finale ed acustica "Iced Instinct" è un pezzo degno di nota. Provolone Records è disco "semplice", dunque, senza fronzoli e fatto con passione (compresa la bella copertina dell'artista torinese Fabio Ramiro Rossin), insomma vi dà il giusto e chiede poco. Stampa il tutto nei formati lp e cd la Disco Futurissimo, label oltretutto di un amico stesso di Memoli, che si prende la briga di dare visibilità a queste composizioni nate più di dieci anni fa.
Piccolo è bello, c'è poco da fare.