SULPHUR AEON, Swallowed By The Ocean's Tide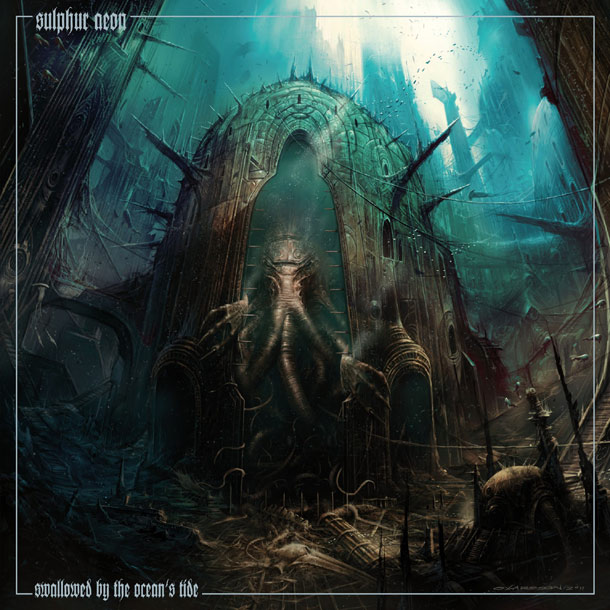 Debutto sulla lunga distanza del trio tedesco dopo un demo e l'ep Sulphur Psalms. Immediata scatta la collocazione musicale nel filone death metal old style: forti rimandi ai Morbid Angel più oscuri (epoca Blessed Are The Sick, per intenderci) e si sente l'influenza dei Behemoth più oltranzisti e votati al black metal (Pandemonic Incantations e Satanica).
Se da un lato non troviamo nulla di particolarmente innovativo, è altrettanto vero che i Sulphur Aeon sanno cosa sia la brutalità esecutiva, ma soprattutto hanno il merito di arricchire la loro proposta di una componente melodica che potrà rendere l'album fruibile a un pubblico più vasto e amante di soluzioni sonore facilmente individuabili all'interno del tessuto dei brani. Niente modernismi, dunque, ma un death metal compatto che suona molto intenso anche grazie al supporto di una produzione soffocante e caliginosa. Il concept trattato, che si riflette anche sullo splendido artwork di copertina, ci sprofonda nell'universo di Lovecraft, popolato da grandi antichi e da creature tentacolari di ogni sorta. Ne costituisce esempio la visionaria intro "Chtulu Riti", epica all'inverosimile e capace di ricordare l'incessante fluire di una marea che col suo infrangersi ci inabissa nelle profondità oceaniche. Degna di menzione particolare è l'avvolgente "Incantation", contraddistinta da riff circolari e ossessivi, perfetto collegamento alla monumentale e tetragona "Inexorable Spirits". Il punto più elevato del disco, composto dal trittico "The Devil's Gorge", "Where Black Ships Sail" e "Swallowed By The Ocean's Tide", si fonde in un continuum che sembra tradursi in un magma sonoro che tutto travolge fino alla pietrificazione di ogni forma di vita. Suggello ideale di questo viaggio maledetto è la strumentale "Zombie", omaggio della band all'indimenticato maestro del cinema horror Lucio Fulci.
L'intero album gode di un'atmosfera malsana e trasmette un senso di oscurità senza fine, come tale deve essere ascoltato nella sua totalità perché sia possibile gustare appieno ogni singola tenebrosa sfumatura. Maestoso!
Tracklist
01. Cthulhu Rites
02. Incantation
03. Inexorable Spirits
04. The Devil's Gorge
05. Where Black Ships Sail
06. Swallowed By The Ocean's Tide
07. Monolithic
08. From The Stars To The Sea
09. Those Who Dwell In Stellar Void
10. Beneath. Below. Beyond. Above
11. Zombi