SARCASM, Within The Sphere Of Ethereal Minds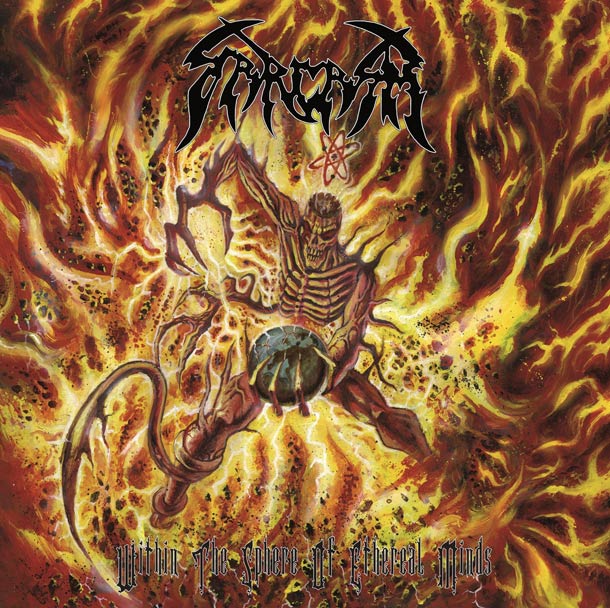 Ho sempre associato il nome Sarcasm a un oscuro gruppo thrash metal sloveno che nel 1989 sfornò un capolavoro dal titolo Crematory, del quale acquistai la ristampa anni fa.
Di questi svedesi non sapevo nulla, e ascoltando questo disco capisco pure il perché. Questi Sarcasm si formano all'inizio dei Novanta (o agli ultimi rantoli degli Ottanta, vedete voi), sfornano qualche demo e un esordio intitolato Burial Dimensions, registrato nel 1994 e uscito solo nel 2016, sempre sotto le grinfie protettrici di Dark Descent. Il loro death metal è quello classico svedese: veloce, molto melodico e ricco di atmosfera. Purtroppo al terzo pezzo uno come me già dà segni di cedimento: i brani, pur essendo tutti suonati assai bene, sono un po' canonici per i miei gusti, manca in poche parole quel guizzo assassino che mi fa muovere il piede, quella componente lurida e sanguinolenta che invece in altre produzioni svedesi ritrovo. Diciamocela tutta: sono un po' fighetti i Sarcasm, coi suoni perfetti e leccati. La registrazione è molto pulita e fredda: avrei preferito più sporcizia, che sicuramente avrebbe reso questi brani maggiormente esaltanti. Invece così è la solita minestrina, buona, ma che stufa presto.