Sabato 24 maggio c'è il Born To Be Grind Fest
Riceviamo e pubblichiamo.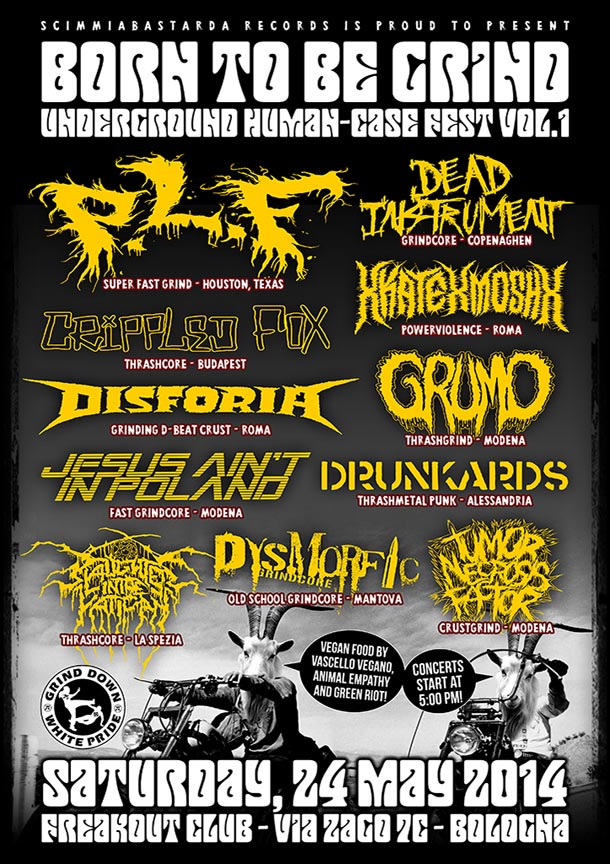 ScimmiaBastarda Records presenta: BORN TO BE GRIND FEST Vol. 1!
Undici gruppi: otto provenienti da quasi tutta Italia + tre importanti ospiti stranieri (Stati Uniti, Danimarca, Ungheria), ottima birra, cibo vegan a cura di Vascello Vegano + Animal Empathy + Green Riot, distro punk/metal/grind in grandi quantità e quasi 8 ore consecutive di musica estrema, dal grindcore al thrashcore… una serata dedicata all'underground più rumoroso! Lasciate a casa l'antipatia, portatevi dietro i tappi per le orecchie…
SABATO 24 MAGGIO, dalle ore 19.00 – Freakout Club, Via Zago 7/C – Bologna (sotto il ponte di via Stalingrado, a 3 min a piedi da Porta Mascarella PORTA MASCARELLA e 15 min da Piazza Verdi) – INGRESSO RISERVATO AI SOCI AICS (TESSERA AICS 5 EURO).
Questa la scaletta ufficiale:
02.30-03.00 • JESUS AIN'T IN POLAND
01.45-02.30 • KATE MOSH
01.00-01.45 • P.L.F.
00.15-01.00 • DEAD INSTRUMENT
23.30-00.15 • GRUMO
22.45-23.30 • DISFORIA
22.00-22.45 • DYSMORFIC
21.15-22.00 • CRIPPLED FOX
20.30-21.15 • SLAUGHTER IN THE VATICAN
19.45-20.30 • DRUNKARDS
19.00-19.45 • TUMOR NECROSIS FACTOR