Sabato 11 giugno torna il Born To Be Grind
Riceviamo e pubblichiamo.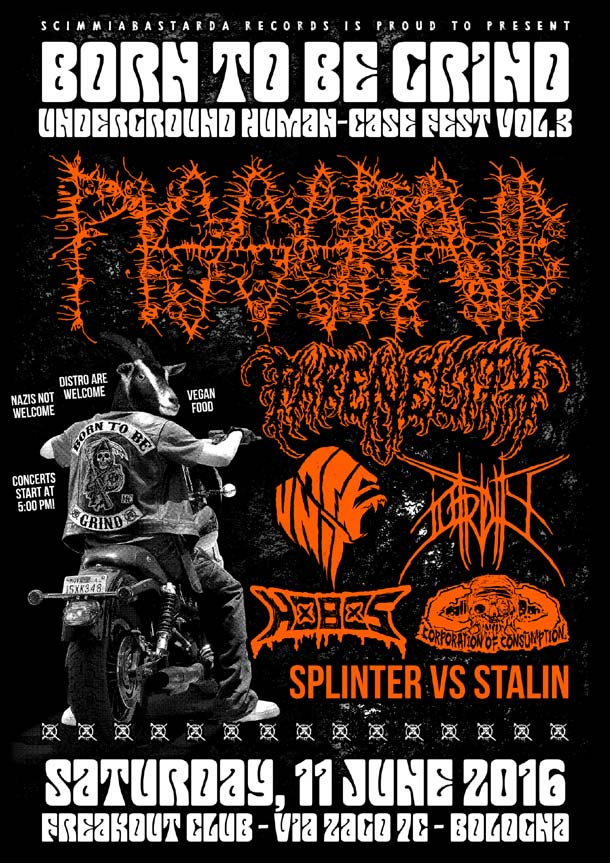 ScimmiaBastarda Records is proud to present:
11 GIUGNO 2016 + BORN TO BE GRIND + UNDERGROUND HUMAN-CASE FEST VOL.3
Per il terzo anno consecutivo torna l'appuntamento più estremo della bella stagione, sempre presso il Freakout Club, in via Zago 7C (Bologna). Come di consuetudine saranno presenti distro underground, cibo vegan, brutta gente e bruttissima musica.
Sul palco ci saranno:
Pissgrave ( brutal and raw death metal da Philadelphia, Profound Lore Records)
Phrenelith (death metal da Copenhagen, Extremely Rotten Prod)
Putridity (brutal death metal da Torino, Willowtip Records)
Ape Unit (grind-powerviolence da Cuneo)
Hobos (metal punk HC da Venezia)
Corporation Of Consumption (grindcore da Padova/Treviso)
Splinter VS Stalin (powernoise da Carrara/Viareggio, Turgid Animal Records)
Ingresso 10€ con tessera AICS, inizio concerti ore 20:00.