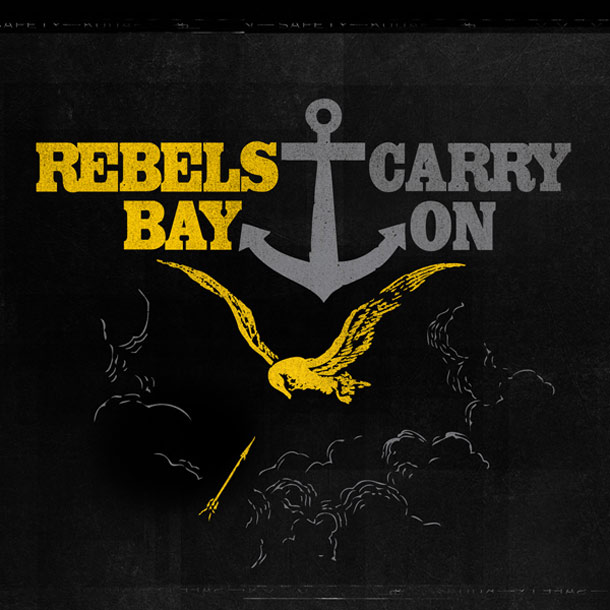 Il rock è come il veleno. Se non lo espelli muori, ma devi strizzare anche il cuore affinché tutto esca fino all'ultima goccia. A volte il cuore non basta, per questo esiste il whisky, esistono le sigarette, le donne, i tatuaggi. Aggrappatevi forte signori. È un brutto periodo. Lo dice la tv, lo dicono i giornali, lo dice la faccia tesa della gente per strada. Secondo me i Maya ci hanno azzeccato sul serio. Il mondo è collassato, solo che facciamo finta che non sia così e mai come adesso abbiamo bisogno di qualcuno che ci prenda la mano e ci conduca lontano.
La California andrebbe benissimo, ma ci accontentiamo di Riva del Garda, terra dei Rebels' Bay, rocker aspri e nostalgici del punk rock afoso dei Social Distortion. "Carry On" è un ep a stelle e strisce, americano to the bone, bastardo, ruspante e caldo come la fronte di un muratore sotto il sole che scotta. Voce roca, chitarre limpide, drumming compatto, melodie scolpite, sincerità. Tanta sincerità. Perché anche se in Italia non siamo abituati a certe espressioni di rock americano proletario e ribelle, i nostri hanno avuto le palle di farle proprie scolpendo sei tracce di altissima qualità.
Lo sapete cosa penso? Penso che ora come ora solo il rock può salvarci il culo. È la scappatoia più immediata in un mondo dove i valori sono andati a farsi fottere e ci resteranno per chissà quanto tempo. Ragazzi, salvatevi finché siete in tempo. La cura ha un nome: Rebels' Bay. E una volta tanto ce l'abbiamo in casa nostra.