Questo settembre i Warcry (Portland, d-beat) saranno a Trieste, Bologna, Roma e Milano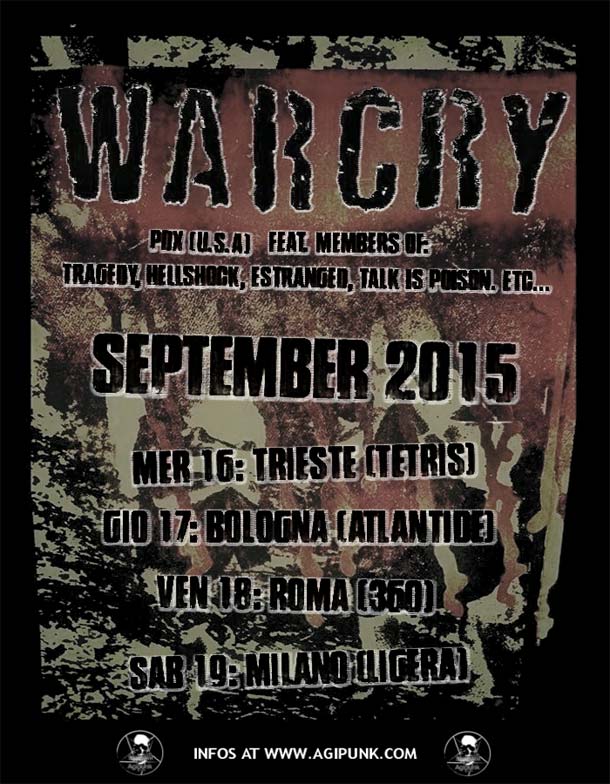 Portland è sempre stata uno snodo rilevante della scena punk/hardcore, basti pensare a Poison Idea e Wipers. A partire dai Novanta, però, è diventata proprio uno dei luoghi chiave del DIY punk mondiale: band come Resist prima e Detestation e His Hero Is Gone dopo sono unanimemente considerate dei pilastri. Col nuovo millennio il ruolo di catalizzatore della città è diventato sempre più decisivo e – fra i tanti nomi di peso che sono emersi negli anni – quello dei Warcry è tra i più importanti, anche perché la formazione comprende membri di gruppi fondamentali come Tragedy, From Ashes Rise, Hellshock, Remains Of The Day, Estranged, Severed Head of State e molti altri, inclusi i già citati His Hero Is Gone. I Warcry sono portabandiera del d-beat più puro e furioso, cuore ai Discharge e occhi alla Svezia di Anti-Cimex, Shitlickers e Avskum. In occasione del loro tour europeo, Agipunk farà uscire il loro nuovo disco e ristamperà i tre precedenti, il tutto rigorosamente in vinile.
Il loro tour italiano comincia il 16 al Tetris di Trieste (support act: Warfare, hardcore punk da Gorizia), e prosegue il 17 settembre a Bologna (Atlantide), il 18 a Roma (360) e il 19 a Milano (Ligera).
The New Noise è media partner.