PRAYERS OF SANITY, Face Of The Unknown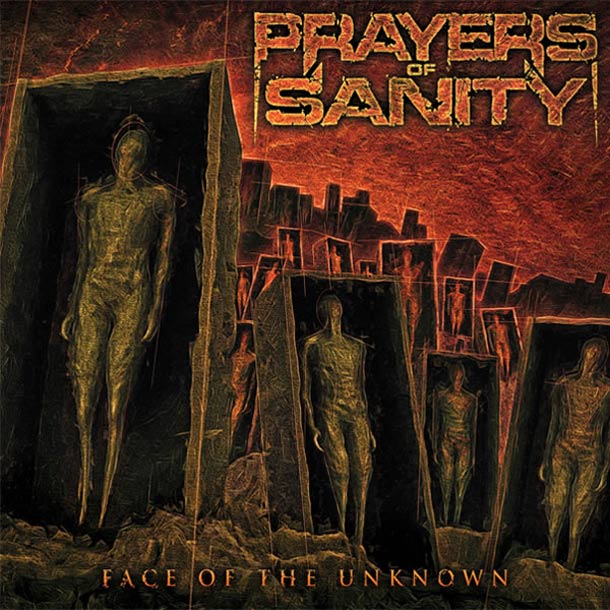 Trovo spesso agghiacciante il thrash dei giorni nostri: groove come se piovesse (maledetti Pantera), produzioni troppo pulite e songwriting deboluccio. Invece questi Prayers Of Sanity dal Portogallo mi ridanno fiducia nel futuro di questo genere. Thrash metal rutilante, suonato benissimo, unito alla cara, vecchia e sana crudezza del punk.
Le tracce contenute in questo terzo lavoro sulla lunga distanza sono tutte gustosissime: velocità, stacchi, una voce graffiante e su tutto quell'aurea di divertimento che qualcuno una volta chiamava good friendly violent fun, qui presente in dosi massicce. Riffoni grassi si uniscono a un lavoro di batteria indiavolato e a un basso martellante. Perché alla fin fine i Prayers Of Sanity mazzuolano che è un piacere. Lontani anni luce da certi isterismi tecno-thrash o da iper-produzioni finte come l'ottone, vanno per la loro strada con un unico scopo: bruciarvi la testa a forza di headbanging. La semplicità di ciò che suonano, unita ad assoli fulminei e incastrati alla perfezione nel magma sonoro prodotto, me li ha fatti amare da subito. Quindi, se come me siete ghiotti di Municipal Waste ed Iron Reagan, qui troverete pane per i vostri denti. Thrash + Punk = T.N.T..
Tracklist
01. Face Of The Unknown
02. Dead Alive
03. Past, Present, None
04. Unturned
05. In Between
06. March Forward
07. Someday
08. Betrayer
09. Nothing