Poptones presents: Sad Times, the fall of the American Dream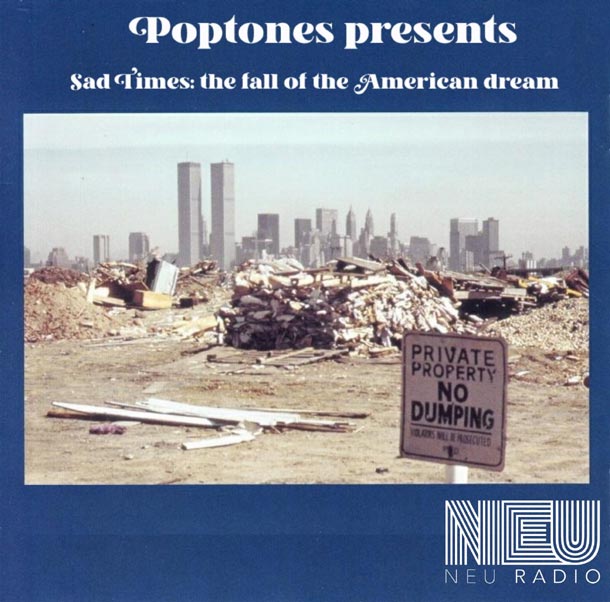 Per la puntata n. 26 di Poptones Gabriele Savioli cerca di analizzare la situazione negli Stati Uniti tra la fine degli anni Sessanta e l'inizio dei Settanta, periodo in cui il sogno americano inizia a vacillare e conseguentemente anche l'aspetto musicale subisce trasformazioni. Molti artisti con un alto livello di notorietà ma anche giovani leve iniziano a sviluppare temi quali l'abbandono, l'alienazione e la crisi di identità nonché l'avversione ad un mondo che non sentono più loro. Questa puntata cerca di dare un piccolo assaggio di ciò.
Playlist
JODE – TOMORROW IS GONE
TUCKER ZIMMERMAN – NO LOVE LOST
THE FOUR PREPS – HITCHHIKER
JOHNNY TILLOTSON – WELFARE HERO
THE BEACH BOYS – LOOKING AT TOMORROW (A WELFARE SONG)
WEST – SAD ABOUT THE TIMES
DION – ABRAHAM, MARTIN AND JOHN
ANITA KERR- WINE IN THE WIND
THE FROST – THROUGH THE EYES OF LOVE (GOD HELP US PLEASE)
WILLOW – LOAVES & FISHES
ROGER RODIER – AM I SUPPOSED TO LET IT BY AGAIN
THE BOX TOPS – LOST
EMMET FINLEY – PAULA'S SONG
OLIVER KLAUS – HERE COMES THE SUN
Poptones
Poptones nasce e si sviluppa utilizzando come base i Sixties: partendo dal soul della Motown, passando dal garage-beat fino ad arrivare al freakbeat, alla psichedelia e al folk-rock, questo decennio ha influenzato anche quello successivo con la prima elettronica, l'hard-rock, il power-pop, fino ad arrivare al punk, alla new wave e al post-punk, generi che sfociano negli anni Ottanta, decennio nel quale tutto viene di nuovo assimilato e rivisitato. Poptones cerca quindi di offrire una piccola ma significativa panoramica su quanto di più interessante si muova nel panorama musicale che, in modo diretto o indiretto, abbia legami con il passato. Proprio per sottolineare questa continuità nel tempo, la rubrica tratta periodicamente puntate speciali dedicate a scene o movimenti musicali di particolare interesse.