PENELOPE SULLA LUNA, Enjoy The Little Things Ep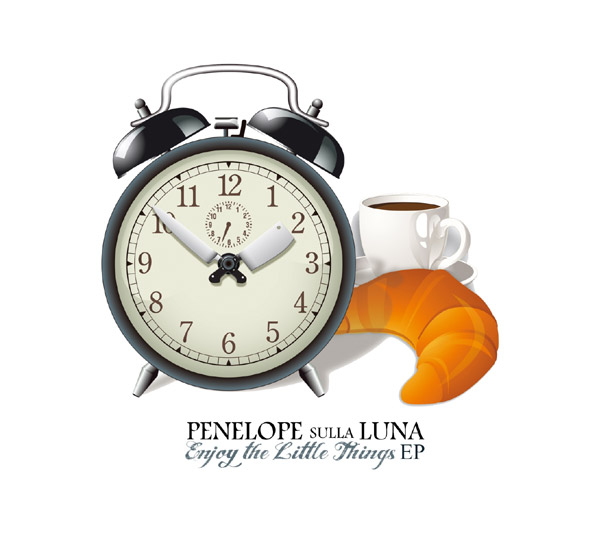 Mai titolo e copertina furono più adatti, per una band che sembra puntare molto sul dettaglio e sulla rifinitura. Piccole cose di cui godere: una sveglia, un cornetto caldo, una tazza di caffè e un negativo all'interno del disco. I Penelope Sulla Luna si presentano così, con questo ep dove compaiono due coppie di tracce strumentali tra loro legate ("Stange Storms And", "Snowflakes Like Cannonballs" e "I Read Lullabies", "To Kill You In Your Sleep") sia musicalmente, sia attraverso i titoli.
Il gruppo di Ferrara è in bilico tra elementi analogici, acustici e sonorità di stampo elettronico: delicati passaggi di piano e synth si alternano a sfuriate chitarristiche; le ritmiche più morbide e rilassanti convivono con altre più serrate, in un'atmosfera che è tipica del post-rock, genere che di norma gioca sul contrasto tra il "pianissimo" e il "fortissimo".
Le architetture sonore dei Penelope sembrano funzionare bene: Enjoy The Little Things ep mette in chiara luce le spiccate potenzialità di Doriana (chitarra), Andrea (basso), Roy (piano e synth), e Tom (batteria), che senz'altro sapranno riproporsi ancor meglio in un lavoro dal minutaggio più elevato, magari osando un po' di più quanto a scrittura.
Tracklist
01. Strange Storms And
02. Snowflakes Like Cannonballs
03. I Read Lullabies
04. To Kill You In Your Sleep
A oggi,
da qui
è possibile scaricare il disco.