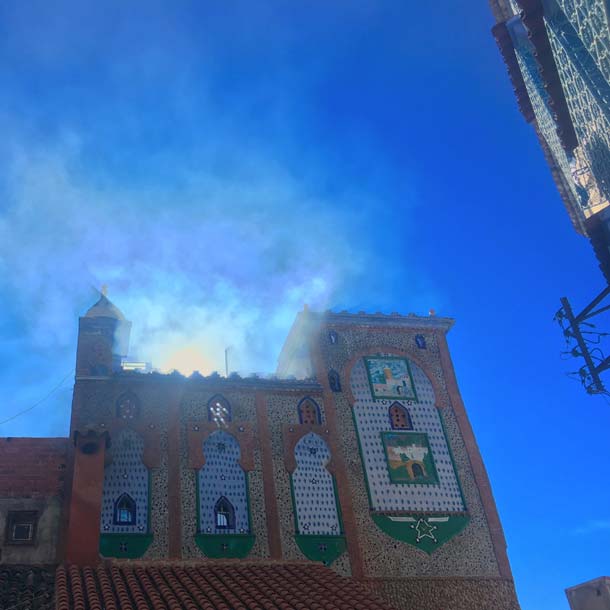 Ascolta la puntata (listen on Mixcloud).
Playlist
Exoterm, First Light, Exits Into a Corridor (Hubro)
Underworld, Altitude Dub, Drift Ep. 4 Pt. 5 (Underworldlive.com)
Steve Gunn, Shrunken Heads, Be Still Moon / Shrunken Heads (Matador)
Jordan Rakei, Oasis, Origin (Ninja Tune)
Konx-om-Pax, Rez, Ways Of Seeing (Planet Mu)
Julian Lars Gosper, 44,448 Meters, V/A Sea Watch (Shameless)
Helm, Lizard In Fear, Chemical Flowers (Pan)
Altrimenti, Camera + Interno, Interno (Misto Mame)
Tyler The Creator, A Boy Is A Gun, IGOR (Columbia)
Huma Utku, Black Water Red, Gnosis (Karlrecords)
Pixx, Funsize, Small Mercies (4AD)
75 Dollar Bill, Every Last Coffee Or Tea, I Was Real (Glitterbeat/tak.til)
Sabir Aslah, Morad Raissouni, Mohamed El Habti & Ldgu, Alwali Ya Moulay Ahmed, Khardala/Beldia: Chefchaouen's Holy Smokes (Tresno)
Tim Hecker, That World, Anoyo (Kranky)
Pangea
Pangea è un continuum spazio-musicale, una serie di derive psicogeografiche musicali in costante mutazione, le cui traiettorie ed excursus vengono di volta in volta determinati dalla collocazione delle tessere del puzzle che ne compongono il percorso. A Pangea piace ricreare ambienti sonori stranianti ed inviare spedizioni di esploratori trainati da cani da slitta da un capo all'altro dell'orbe terracqueo. Pangea è suono che puoi seguire con gli occhi e per questo crede molto nelle nuove geografie. Pangea adora giocare soprattutto con le novità discografiche, poiché nella sua più intima essenza vi è un inappagabile anelito di futuro, di altrove e di inaudito, ma non disdegna incursioni e retrospezioni nei meandri più reconditi della Storia. Pangea è un programma radiofonico che va in onda in diretta ogni martedì sera, dalle 21.00 alle 22.30, sulle frequenze di
Radio Città del Capo
.