PAGAN ALTAR, The Room Of Shadows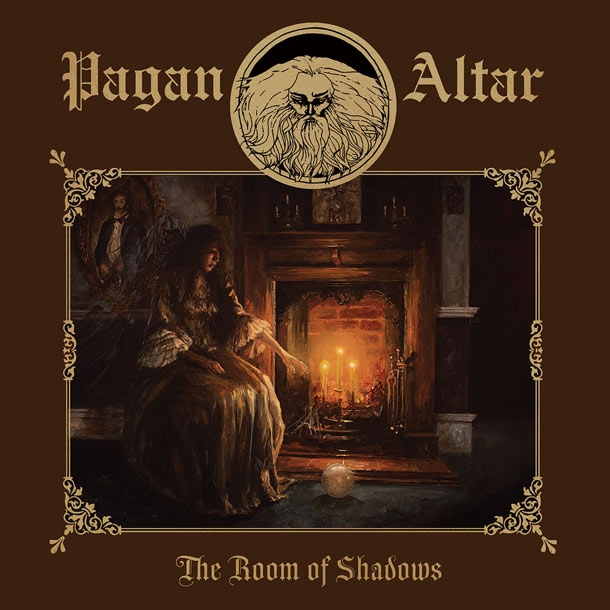 The Room Of Shadows costituisce il sigillo finale dei Pagan Altar, formazione attiva durante gli anni di maggiore fermento della NWOBHM e inaspettatamente risorta agli albori del Nuovo Millennio. Laddove Volume 1/Judgement Of The Dead  è considerato tra i dischi doom più significativi di sempre, Lords Of Hypocrisy e in particolare Mythical & Magical hanno ampliato la visione della band londinese sino a inglobare al proprio interno elementi folk.
Il decesso del cantante Terry Jones, avvenuto il 15 maggio 2015, ha posto la parola fine a un'epoca e spinto il figlio Alan Jones (chitarra) a onorare la memoria di suo padre completando le registrazioni di quest'album con Diccon Harper (basso) e Andy Green (batteria). La pubblicazione è stata posticipata diverse volte a causa dell'insoddisfazione della band, eppure non si riesce a capire cosa abbia fatto nascere tali perplessità. Vero che la versione realizzata da Temple Of Mystery Records è stata parzialmente ritoccata in tempi recenti, ma gli episodi in essa contenuti sono comunque evocativi come sarebbe stato lecito aspettarsi. Le atmosfere sulfuree del debutto sono ancora presenti, ma prevalgono brani riflessivi dal retrogusto hard rock e melodie struggenti che non avrebbero sfigurato all'interno dei suoi predecessori. Gli elementi che hanno contribuito a rendere imprescindibile gli autori del seminale ep The Time Lord (2004) sono preservati e per certi aspetti amplificati in episodi come "The Portrait Of Dorian Gray" e "The Ripper". Ne risulta un disco omogeneo, che commuove dalla prima all'ultima nota, facendo sorgere un po' di malinconia a causa della sua stessa natura testamentaria.