Night Shift, puntata 231 (Menion)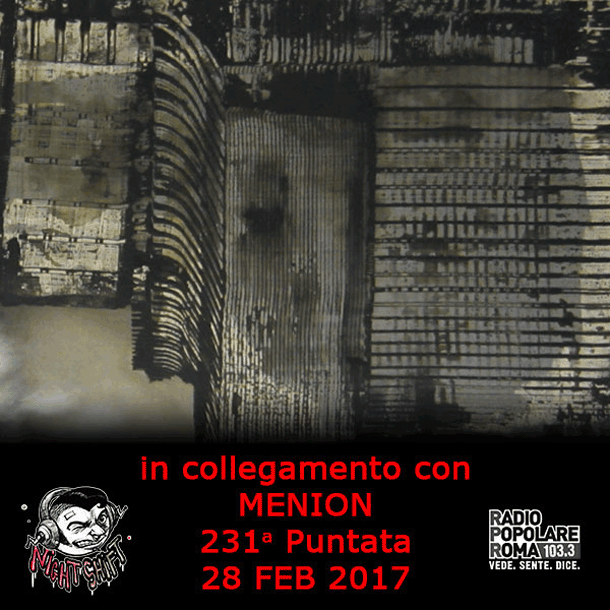 La musica dei Menion è un "electronic post-rock", un miscuglio di elementi glitch, ambient e appunto post-rock. Il progetto nasce dall'urgenza di raccontare attraverso i suoni storie, esperienze e impressioni del loro vissuto. Non sono interessati a sperimentazioni forzate e fini a se stesse, desiderano condividere la ricerca sonora e vivere la musica come opportunità di auto-miglioramento.
Playlist
01. Kingston Advice – The Clash
02. Obsession – Menion
03. Copy of A – Nine Inch Nails
04. My Beautiful Leah – Pj Harvey
05. The Red Book – Menion
06. Phloam – Aphex Twin
07. 12305(te Nacht) – Einstürzende Neubauten
08. Dunkel – Menion
09. Triptych – Nerve
10. 6 – Niodel
11. Explosion In The Darkness – Menion
12. U_03 – Alva Noto
13. REM Sleep Research – Ochre
14. The Sublimation Of Hate – Menion
15. Sit Down Stand Up – Radiohead
16. My Black Ass – Shellac
Night Shift
In onda ogni martedì a partire dalle 22:00 sui 103.3 FM di Radio Popolare Roma e in streaming su
radiopopolareroma.it
.
Contenitore musicale notturno che punta alla messa in circolo delle sonorità meno diffuse nell'etere romano. Grande attenzione è rivolta alle band underground nostrane, che vengono invitate a raccontarsi proponendo la loro musica e quella delle loro origini.