Night Shift, puntata 225 (Underball vs Le Mura)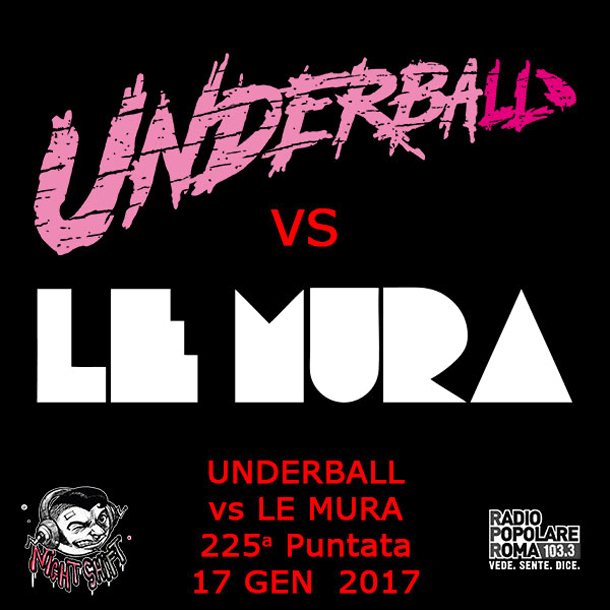 Abbiamo dato vita ad una puntata diversa dal solito, una sorta di battaglia in pieno spirito goliardico tra due band caratterizzate da sonorità e attitudini apparentemente distanti. L'esuberanza di entrambe è stata difficile da contenere, ma ci ha regalato molte risate.
Gli UNDERBALL nascono a Roma nel 2015 e miscelano thrash, hard, heavy, doom e classic. LE MURA nascono a Roma nel 2010 e si indirizzano verso un garage-rock contraddistinto da marcate venature psichedeliche.
Playlist
01. Hateful – The Clash
02. Supercherry – Le Mura
03. Dwarf – Underball
04. The Real Me – The Who
05. Better By You, Better Than Me – Judas Priest
06. LA DONNA GIUSTA – Le Mura
07. Modern Woman – Underball
08. Play With The Rebels – The Winstons
09. The Lumberjack – Jackyl
10. Sex is law – Le Mura
11. Squirt On My Face – Underball
12. Break Into Your Heart – Iggy Pop
13. E Chissene Frega – Marco Masini
14. Che Cazzo Mi Frega – Le Mura
15. My Mother Put The Dildo In Her Boyfriend's Ass – Underball
16. Muse – New Kind Of Kick (The Cramps cover)
17. 502 – Megadeth
18. Il Sicario – Le Mura
19. Sniff With Us – Underball
Night Shift
In onda ogni martedì a partire dalle 22:00 sui 103.3 FM di Radio Popolare Roma e in streaming su
radiopopolareroma.it
.
Contenitore musicale notturno che punta alla messa in circolo delle sonorità meno diffuse nell'etere romano. Grande attenzione è rivolta alle band underground nostrane, che vengono invitate a raccontarsi proponendo la loro musica e quella delle loro origini.