Night Shift, puntata 224 (speciale "Questa è Roma 2017")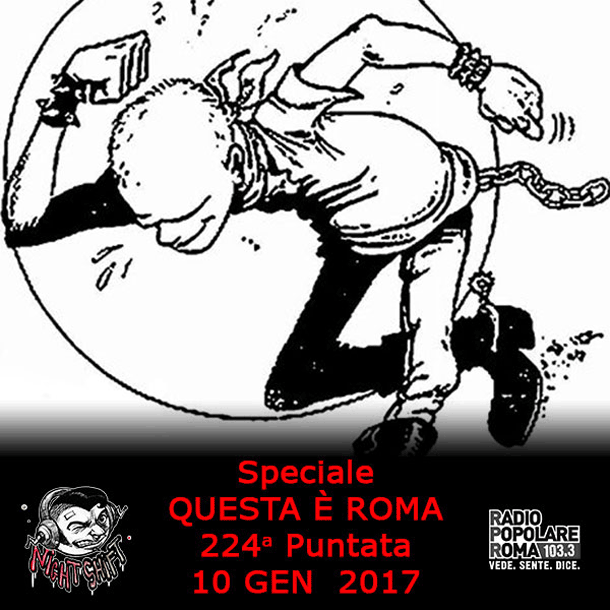 "Questa È Roma" è una manifestazione musicale che va avanti da molti anni nella Capitale, riprendendo quello che era lo spirito degli eventi hardcore denominati "Blowout" e iniziati nel lontano 1991. Anche quest'anno torna l'appuntamento col festival più selvaggio in città… sedici band, stand, distro, alcool, pogo, stagediving, sudore a palate, l'inferno a Roma!
Playlist
01. Coma Girl – Joe Strummer & The Mescaleros
02. Sporchi, Marci Ed Ubriaconi – Gozzilla E Le Tre Bambine Coi Baffi
03. La Mia Città – Aut Aut
04. La Città Verrà Distrutta All'Alba – The Unborn
05. Nabat – Nabat
06. Banner Of Hope – Abrasive Wheels
07. Riflesso – No More Lies
08. Full Of Hate – Mud
09. Times Are Mature To Declare – Straight Opposition
10. I Don't Need Them – Short Fuse
11. Vent'Anni – Neid
12. Bergoglio's Fistful Of Sanctity – One Day In Fukushima
13. Cartilago Delenda Est – Inferno Sci-Fi Grind'n'roll
14. Apophis – Doomraiser
15. Times We Share – The Difference
16. Do The Right Thing – Face Your Enemy
Night Shift
In onda ogni martedì a partire dalle 22:00 sui 103.3 FM di Radio Popolare Roma e in streaming su
radiopopolareroma.it
.
Contenitore musicale notturno che punta alla messa in circolo delle sonorità meno diffuse nell'etere romano. Grande attenzione è rivolta alle band underground nostrane, che vengono invitate a raccontarsi proponendo la loro musica e quella delle loro origini.