Night Shift, puntata 218 (Speciale Roma punk/Oi! anni '80)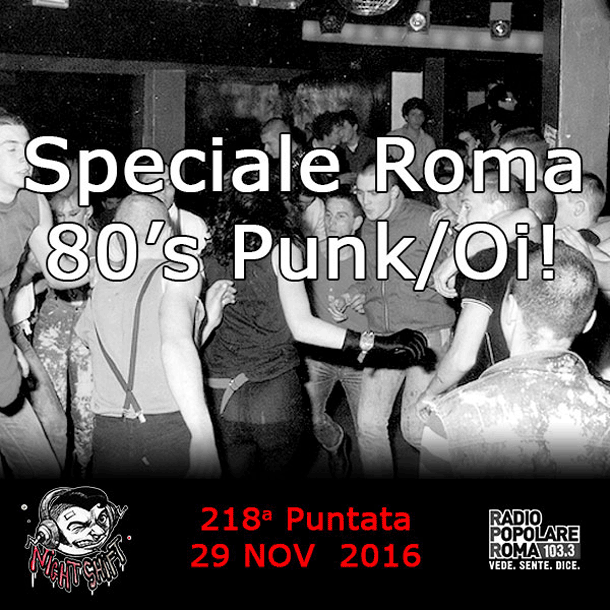 Questa settimana ci siamo tuffati nei ricordi di cinque giovani romani degli anni Ottanta. In compagnia di Sergio dei FUN, Andrea e Lorenzo dei Klaxon, Maurizio da Ulster77 / Nightseekers e AldOne sempre sotto palco, abbiamo messo insieme uno speciale sul punk/Oi! a Roma negli anni Ottanta!
Playlist
01. Clash City Rockers – The Clash
02. Fottuto! – Klaxon
03. Disubbidisci – Bloody Riot
04. Fight War Not War – Ulster 77
05. The Power & The Glory – Cockney Rejects
06. Generazione Oi! – FUN
07. Stop That Train – Clint Eastwood & General Saint
08. New Age (Blitz) – Klaxon
09. Siamo N'Oi! (Dioxina) – The 80's
10. Holiday In Cambodia – Dead Kennedys
11. Doesn't Make It All Right – Stiff Little Fingers
12. Hangover – Serious Drinking
13. Hey Little Rich Boy – Sham69
14. New Rose – The Damned
15. Psychic Attack – The Ruts DC
16. Forever Young – Madness
Night Shift
In onda ogni martedì a partire dalle 22:00 sui 103.3 FM di Radio Popolare Roma e in streaming su
radiopopolareroma.it
.
Contenitore musicale notturno che punta alla messa in circolo delle sonorità meno diffuse nell'etere romano. Grande attenzione è rivolta alle band underground nostrane, che vengono invitate a raccontarsi proponendo la loro musica e quella delle loro origini.