Night Shift, puntata 217 (Last Movement)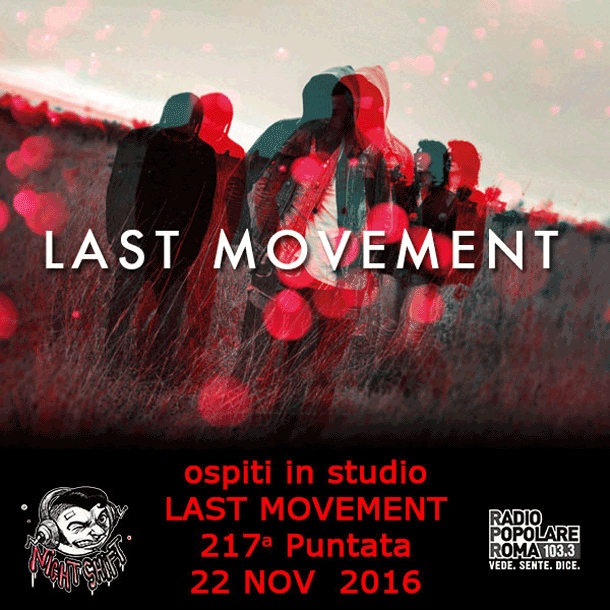 I Last Movement sono un quartetto di base a Roma. La loro musica è un mix tra shoegaze pop psichedelico e space rock fulminante, condito da un pizzico di noise.
Ce ne hanno dato un assaggio proponendoci alcuni brani del loro nuovo disco e altri che rappresentano i loro gusti musicali.
Playlist
01. Red Angel Dragnet – The Clash
02. Hollow Party – Last Movement
03. Continental Shelf – Preoccupations
04. Shut Up – Savages
05. Your Icon – Last Movement
06. Oaxaca – Maserati
07. I'll Cut You Down – Uncle Acid & the Deadbeats
08. Shadow – Last Movement
09. Lentamente La Luce Svanirà – Giobia
10. Eternity- White Hills
11. Gone Completely – Disappears
12. Escape High – Last Movement
13. Tsunami – Skywave
14. Coward Starve – Protomartyr
15. Floating Islands – Last Movement
16. Undo The Taboo – Spectrum
Night Shift
In onda ogni martedì a partire dalle 22:00 sui 103.3 FM di Radio Popolare Roma e in streaming su
radiopopolareroma.it
.
Contenitore musicale notturno che punta alla messa in circolo delle sonorità meno diffuse nell'etere romano. Grande attenzione è rivolta alle band underground nostrane, che vengono invitate a raccontarsi proponendo la loro musica e quella delle loro origini.