Night Shift, puntata 215 (Southern Drinkstruction)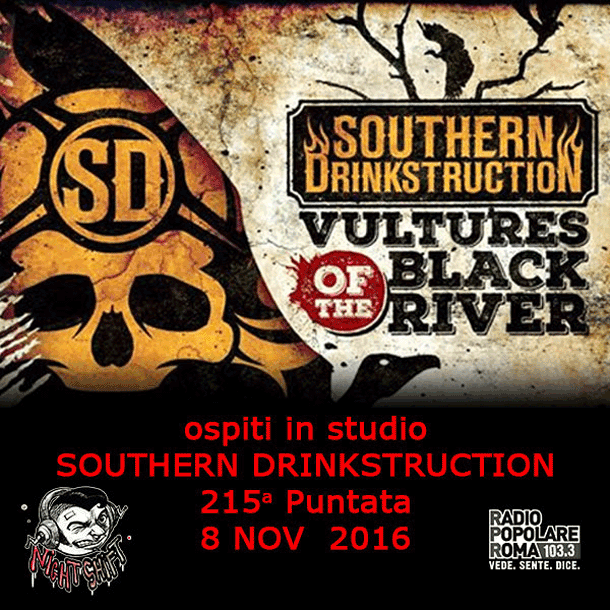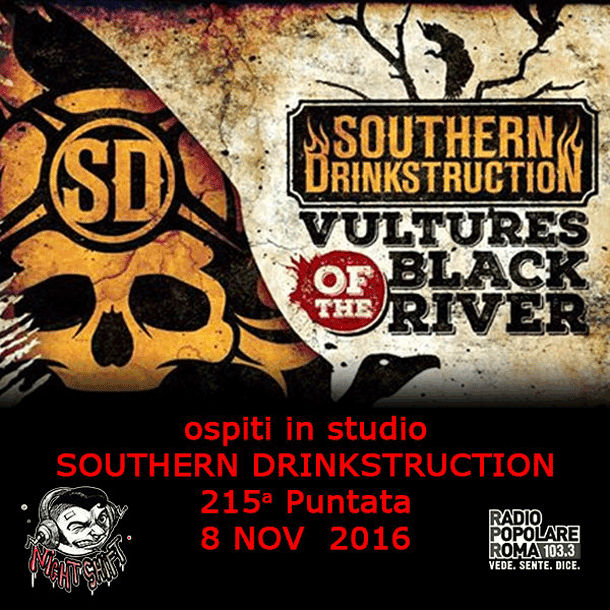 I Southern Drinkstruction tornano nello Studio 1 con la scusa dell'uscita del nuovo album Vultures Of The Black River per la Rotten Roll Rex, ma in realtà hanno colto l'occasione per regalarci un'antologia della scena underground nostrana, tra side projects e band a loro vicine. Per chi non li conoscesse, nascono a Roma con l'intenzione di creare un gruppo che segua le orme del proto-heavy metal, del thrash/death metal e del southern rock che furono, unendoli insieme. Riescono a centrifugare insieme death, blues, southern, thrash, country, punk, rock'n'roll, doom e molto altro.
Playlist
01. Keys to Your Heart (V.2) – The 101ers
02. Appetite For Drinkstruction – Southern Drinkstruction
03. Cat In The Brain – Corpsefuking Art
04. Squirt On My Face – Underball
05. Enemy Of Safety – Justice Plague
06. Zuppa Romama (Schrott Nach 8 Cover) – Southern Drinkstruction & Carcharodon
07. Time To Kill – Dr. Gore
08. TSTSTRN – Injury Broadcast
09. I'm the Pope – Cockroaches
10. Il Twist Dell'Esorcista – The Bone Machine
11. Vultures Of The Black River – Southern Drinkstruction
12. It'a All Introversion – Primitive In The Extreme
13. D'Incanto – IV Luna
14. Shoot Me – Rabid Dogs
15. No Hay Bananas (Tiengo Platanos) – Ape Unit
16. Satanist's Dream – S.L.U.G.S.
17. The South Face – Southern Drinkstruction
18. Cryo – Vidharr
19. White Mammuth – Gorilla Pulp
20. Crapula – Juggernaut
21. The Hornet And The Hunter – Carcharodon
22. Silence Is Betrayal – Strength Approach
23. Tossine – Chronic Hangover
24. Undines (Gabriel) – Misantropus
25. Neither Slaves Nor Masters – Raiden
26. Cadillac Mammoths (Carcharodon Cover Mash-Up) – Southern Drinkstruction
27. Dimensions Onward – Funeral Mantra
28. Apophis – Doomraiser
29. Alcyone – Riti Occulti
30. Fangs In The Flesh – Saturnine
31. From North To South – Southern Drinkstruction
32. Disfigured Embodiment – Devangelic
33. Con 24 Vaffanculo – Fucktotum
34. Raining Blood (Slayer Cover) – Shitty
Night Shift
In onda ogni martedì a partire dalle 22:00 sui 103.3 FM di Radio Popolare Roma e in streaming su
radiopopolareroma.it
.
Contenitore musicale notturno che punta alla messa in circolo delle sonorità meno diffuse nell'etere romano. Grande attenzione è rivolta alle band underground nostrane, che vengono invitate a raccontarsi proponendo la loro musica e quella delle loro origini.