Night Shift, puntata 210 (5Rand)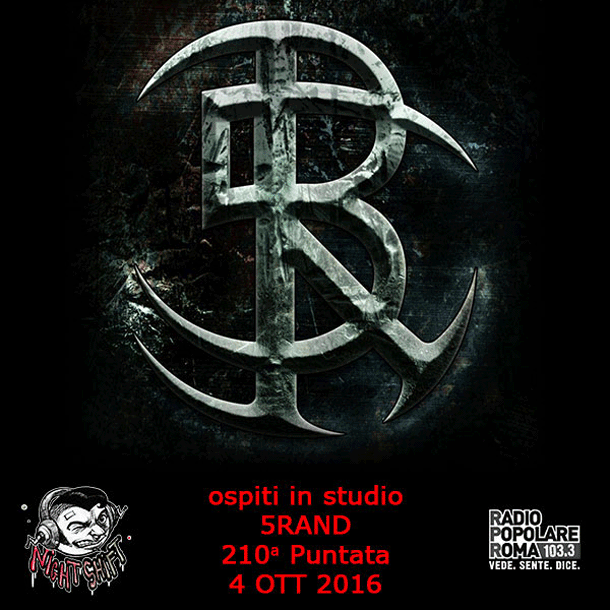 Abbiamo inaugurato la nuova fascia oraria in compagnia dei 5Rand, un gruppo metal italiano fondato nel 2012 che ci ha proposto il suo mix di suoni: thrash metal e elementi industrial più voce femminile che alterna potenti e rabbiosi growl a limpidi puliti.
Playlist
01. Steamgauge 99 – The 101ers
02. Blessed – 5Rand
03. Lucretia – Megadeth
04. Blackened – Metallica
05. Cordyceps – 5Rand
06. The Nameless – Slipnkot
07. Refuse To Be Denied – Anthrax
08. Erase – 5Rand
09. Raining Blood – Slayer
10. War Eternal – Arch Enemy
11. Preacher Of Lies – 5Rand
12. The Evil That Men Do (live) – Iron Maiden
13. Stranded – Gojira
14. Paint Of Pain – 5Rand
15. Rise – Pantera
16. Angel Of Death – Slayer
Night Shift
In onda ogni martedì a partire dalle 22:00 sui 103.3 FM di Radio Popolare Roma e in streaming su
radiopopolareroma.it
.
Contenitore musicale notturno che punta alla messa in circolo delle sonorità meno diffuse nell'etere romano. Grande attenzione è rivolta alle band underground nostrane, che vengono invitate a raccontarsi proponendo la loro musica e quella delle loro origini.