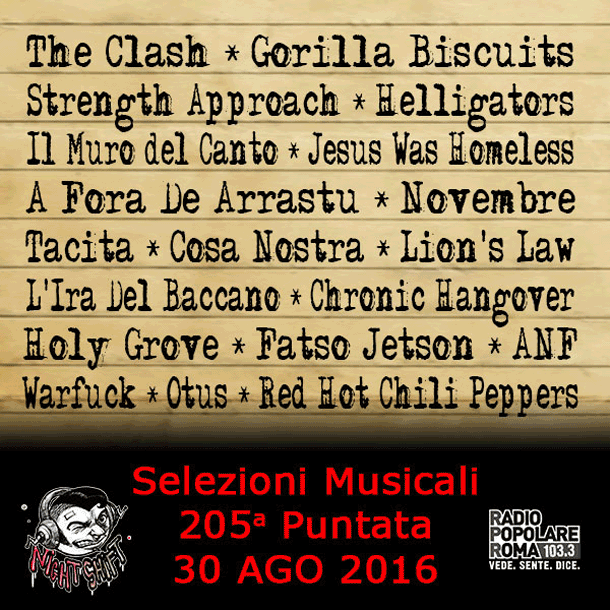 Ripartono le dirette di Night Shift dallo studio 1 di Radio Popolare Roma.
Una puntata di passaggio tra la quarta e la quinta stagione, incentrata sui live romani delle prossime settimane.
Ascolta la puntata.
Playlist
01. Career Opportunities (Live) – The Clash
02. New Direction – Gorilla Biscuits
03. Trust – Strength Approach
04. The Doomstroyer – Helligators
05. Fiore de Niente – Il Muro del Canto
06. Violet Line – Jesus Was Homeless
07. Murziga Surda – A Fora De Arrastu
08. Annoluce – Novembre
09. Palestina – Tacita
10. Nichilistaggio – Cosa Nostra
11. Lionheart – Lion's Law
12. Sussurri Nel Bosco Di Diana parte 2 – L'Ira Del Baccano
13. Tossine – Chronic Hangover
14. Death of Magic – Holy Grove
15. Wire, Wheel And Robots – Fatso Jetson
16. Cheap talk – Always Never Fun
17. Rien Du Tout – Warfuck
18. Echoes And Evocation – Otus
19. Under The Bridge (live) – Red Hot Chili Peppers

Night Shift
In onda ogni martedì a partire dalle 22:30 sui 103.3 FM di Radio Popolare Roma e in streaming su
radiopopolareroma.it
.
Contenitore musicale notturno che punta alla messa in circolo delle sonorità meno diffuse nell'etere romano. Grande attenzione è rivolta alle band underground nostrane, che vengono invitate a raccontarsi proponendo la loro musica e quella delle loro origini.