Night Shift, puntata 199 (Chronic Hangover)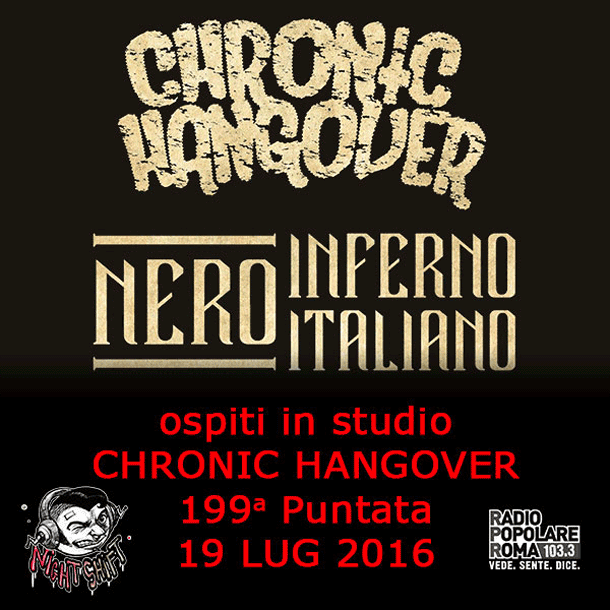 Un'altra sera d'estate trascorsa ai microfoni di Night Shift, in compagnia – tra un brano metal e l'altro – dei Chronic Hangover, che ci hanno riservato un po' di anteprime!
Nati verso la fine del 2013, i Chronic Hangover sono una band formata da musicisti già presenti sulla scena romana in altre formazioni e approdati al loro secondo lavoro in studio. Una lunga session di registrazione, missaggio e mastering porta alla luce "Nero Inferno Italiano", un album dal sound trasversale dal quale emergono sensazioni che toccano il doom metal cadenzato, smitragliate metalliche, polverosi riff desertici e viaggi astrali in chiave psych.
Playlist
01. Bankrobber – The Clash
02. Vituperio – Chronic Hangover
03. Full Of Shit – Debris Inc.
04. Pirate Song – Angel Martyr
05. Tossine – Chronic Hangover
06. Retaliation – Yarast
07. Cosmic Glorification Of Evil – The Reptilian Session
08. Sociopatia – Chronic Hangover
09. On How To Wake The Stones – Cultro
10. Southern Drinkstruction – Southern Drinkstruction
11. Alamut 2112 – Chronic Hangover
12. Sunblood – The Hidden Hand
13. Cold Bodies – Temple Of The Dead Moth
14. Nero Inferno Italiano – Chronic Hangover
15. Peggy Sue Got Married – Headcat
16. Un Giorno Alle Poste – I Santi Bevitori
17. Shout – Lloyd Williams
Night Shift
In onda ogni martedì a partire dalle 22:30 sui 103.3 FM di Radio Popolare Roma e in streaming su
radiopopolareroma.it
.
Contenitore musicale notturno che punta alla messa in circolo delle sonorità meno diffuse nell'etere romano. Grande attenzione è rivolta alle band underground nostrane, che vengono invitate a raccontarsi proponendo la loro musica e quella delle loro origini.