Night Shift, puntata 198 (Killer Boogie)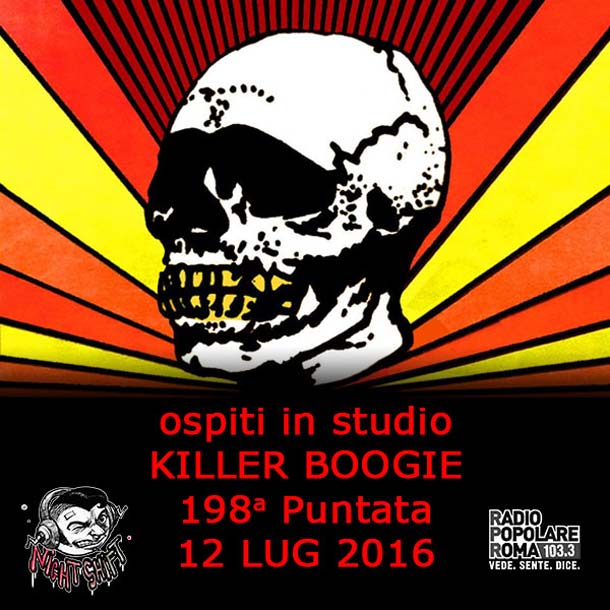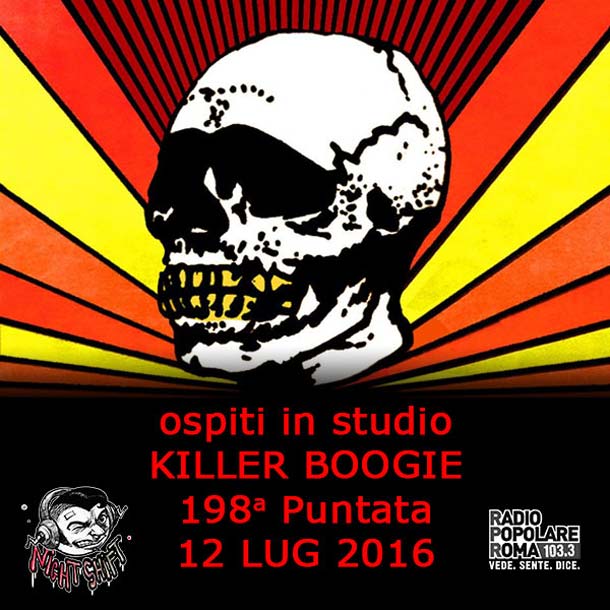 Tra la griglia e il bancone, quattro chiacchiere spensierate con i Killer Boogie.
I Killer Boogie sono una nuova band dedita alla realizzazione di riff anni '70;
una nuova macchina nella scena retro'n'roll abile nel miscelare frequenze blues
con un suono estremamente fuzz dalle sfumature psichedeliche.
Playlist
01. Jail Guitar Doors – The Clash
02. My Queen – Killer Boogie
03. Streange Brew – The Cream
04. Kings Of Boogie – Canned Heat
05. Little Flower – Killer Boogie
06. Just A Little Bit – Blue Cheer
07. Motor City Is Burning – MC5
08. Bad Rebel – Killer Boogie
09. Search & Destroy – The Stooges
10. Mongoose – Fu Manchu
11. The Golden Age – Killer Boogie
12. Am I Demon – Danzig
13. Let It Burn – Nebula
14. Riding The Wind – Killer Boogie
15. Rosie – Dzjenghis Khan
16. I'm The Skull – Danava
17. Root Down – Beastie Boys
Night Shift
In onda ogni martedì a partire dalle 22:30 sui 103.3 FM di Radio Popolare Roma e in streaming su
radiopopolareroma.it
.
Contenitore musicale notturno che punta alla messa in circolo delle sonorità meno diffuse nell'etere romano. Grande attenzione è rivolta alle band underground nostrane, che vengono invitate a raccontarsi proponendo la loro musica e quella delle loro origini.