Night Shift, puntata 190 (Nerodia)
Continuano le chiacchiere metal a Night Shift, questa volta in compagnia dei romani Nerodia.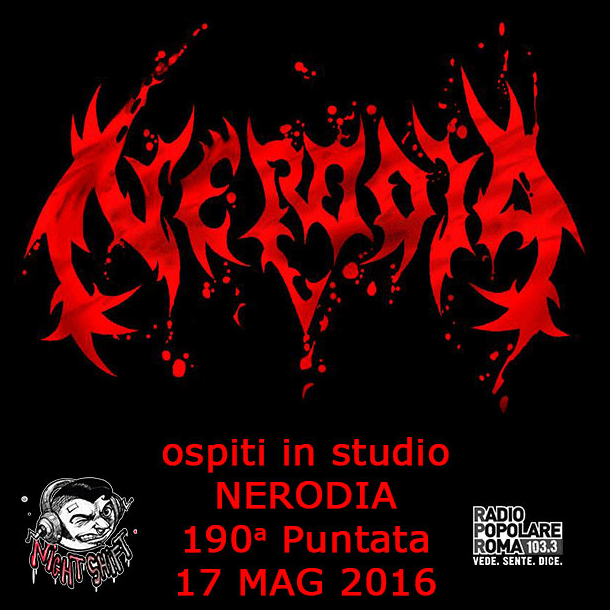 Forti di un album, "Heretic Manifesto" e del più recente ep "Prelude to Misery", i NERODIA tornano con "Vanity Unfair", sicuramente il miglior lavoro della band. Un album per thrashers e un album per rockers, da ascoltare tutto d'un fiato, senza pause, dall'inizio alla fine! La band thrash black, nata più di dieci anni fa, vanta la militanza di membri di Stormlord, Doomraiser, VII Arcano, L'Ira del Baccano e si è evoluta negli anni imponendosi come una solida realtà della Capitale.
Playlist
01. Koka Kola – The Clash
02. Selfsick Madness – Nerodia
03. Too Old Too Cold – Darkthrone
04. The End – The Crown
05. The Black Line – Nerodia
06. Mean Machine – Motorhead
07. Communication Breakdown – Led Zeppelin
08. Anti-Human Propaganda – Nerodia
09. Blackened – Metallica
10. This Boots – Megadeth
11. Souldead – Nerodia
12. Possessed – Satyricon
13. Time to Kill – Overkill
14. Usque Ad Finem – Nerodia
15. The Daemon Throne – Tsjuder
16. Chief Rebel Angel – Entombed
Night Shift
In onda ogni martedì a partire dalle 22:30 sui 103.3 FM di Radio Popolare Roma e in streaming su
radiopopolareroma.it
.
Contenitore musicale notturno che punta alla messa in circolo delle sonorità meno diffuse nell'etere romano. Grande attenzione è rivolta alle band underground nostrane, che vengono invitate a raccontarsi proponendo la loro musica e quella delle loro origini.