Puntata senza ospiti per farvi ascoltare qualche novità discografica, qualche vecchia conoscenza più o meno nota e per darvi qualche informazione.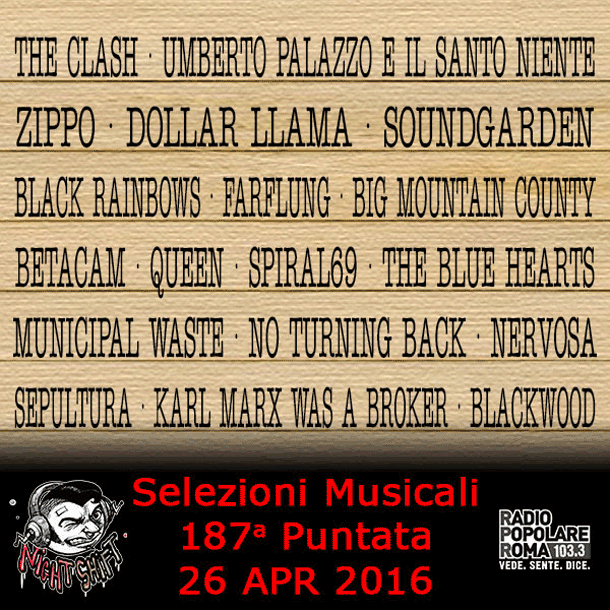 Ascolta il podcast sul Mixcloud di Nightshift.
Playlist
01. Spanish Bombs – The Clash
02. Wir Sind Partisanen – Umberto Palazzo e il Santo Niente
03. Cuore Di Puttana (Santo Niente cover) – Zippo
04. Grand Union – Dollar LLama
05. Jesus Christ Pose – Soundgarden
06. Electrify – Black Rainbows
07. We Are E – Farflung
08. What Do You Think – Big Mountain County
09. Nico Giraldi – Betacam
10. Keep Yourself Alive – Queen
11. Ritual – Spiral69
12. Chernobyl – The Blue Hearts
13. Wolves Of Chernobyl – Municipal Waste
14. Destination Unknown – No Turning Back
15. Twisted Values – Nervosa
16. Dead Embryonic Cells – Sepultura
17. Monoscope – Karl Marx Was A Broker
18. Santissima Muerte – Blackwood
Night Shift
In onda ogni martedì a partire dalle 22:30 sui 103.3 FM di Radio Popolare Roma e in streaming su
radiopopolareroma.it
.
Contenitore musicale notturno che punta alla messa in circolo delle sonorità meno diffuse nell'etere romano. Grande attenzione è rivolta alle band underground nostrane, che vengono invitate a raccontarsi proponendo la loro musica e quella delle loro origini.