Night Shift, puntata 186 (intervista agli Strength Approach)
Night Shift intercetta spesso nostre vecchie conoscenze.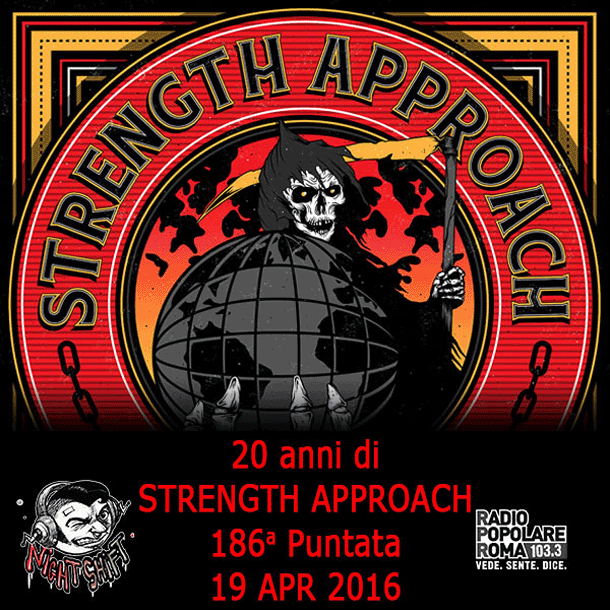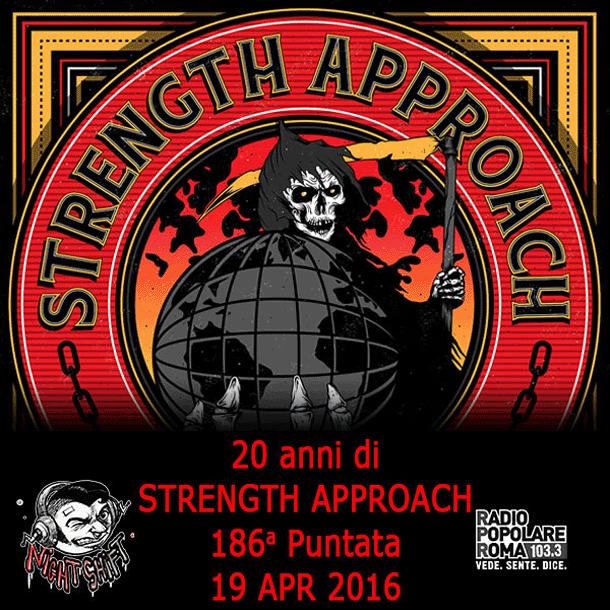 Dal 1996 al 2016 gli Strength Approach hanno tenuto alta la bandiera dell'hardcore romano in giro per Europa, USA, Mexico, Australia e Asia.
Per celebrare i loro 20 anni sono tornati agli Hell Smell Studios di Roma con Mitts dei Madball per dare alla luce "Over The Edge", nuovo album uscito in cd per Fast Break Records (USA) e su vinile per Destroy Your World Inc. (ITA).
In occasione dell'imminente release party e show di anniversario al 360gradi di Roma,
sono venuti a presentare il disco in esclusiva per gli ascoltatori di Night Shift.
Ascolta la puntata sul Mixcloud di Night Shift.
Playlist
01. Death or Glory – The Clash
02. Over The Edge – Strength Approach
03. Sausages – CIV
04. Last Warning – Agnostic Front
05. Against The Grain – Strength Approach
06. Under Your Influence – Dag Nasty
07. As One – Warzone
08. Reap What You Sow – Strength Approach
09. Salad Days – Minor Treath
10. Step Down – Sick Of It All
11. Reality Slap – Strength Approach
12. Sailin' On – Bad Brains
13. High Hopes – Gorilla Biscuits
14. The Price To Pay – Strength Approach
15. God Is Broke – D.R.I.
16. Hanging On the Corner – Blood For Blood
17. Trust – Strength Approach
18. Ramallah – Ramallah
19. By A Thread – Inside Out
20. True Spirit – Strength Approach
21. United Forces – Stormtrooper Of Death
22. Mind Your Business – La Coka Nostra
Night Shift
In onda ogni martedì a partire dalle 22:30 sui 103.3 FM di Radio Popolare Roma e in streaming su
radiopopolareroma.it
.
Contenitore musicale notturno che punta alla messa in circolo delle sonorità meno diffuse nell'etere romano. Grande attenzione è rivolta alle band underground nostrane, che vengono invitate a raccontarsi proponendo la loro musica e quella delle loro origini.