Night Shift, puntata 184 (intervista ai Novembre)
Night Shift intercetta una delle band metal italiane più amate.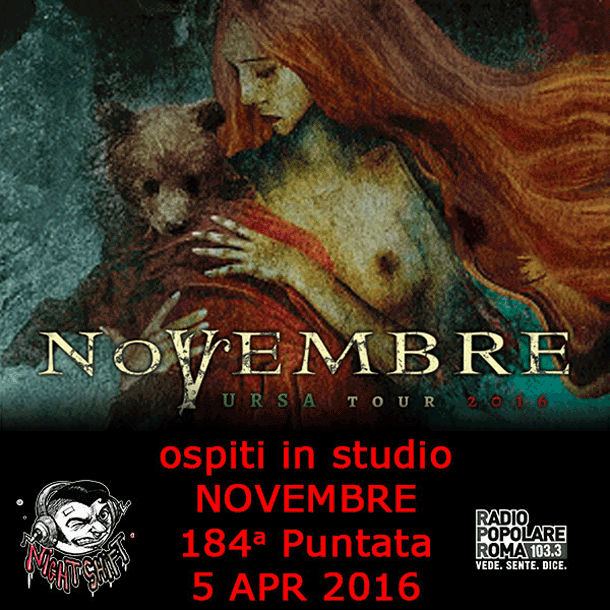 Chi conosce la scena metal romana e chi ha frequentato quella comitiva che si riuniva dietro al fioraio della scalinata di Trinità dei Monti sa bene che la storia dei Novembre è iniziata nel 1990 quando i fratelli Orlando suonavano con il nome di Catacomb. Nel 1993 cambiarono il nome in Novembre e divennero rapidamente una delle principali band europee nell'ambito del gothic-doom.
A quasi dieci anni dal precedente album, Carmelo Orlando è venuto a parlarci del loro settimo lavoro in studio, uscito su Peaceville Records il 1° Aprile con il titolo di URSA.
Ascolta la puntata sul Mix Cloud di Night Shift.
Playlist
01. I'm So Bored with the U.S.A – The Clash
02. Australis – Novembre
03. Blackened – Metallica
04. South Of Heaven – Slayer
05. Umana – Novembre
06. Gothic – Paradise Lost
07. Silhouette – Opeth
08. Annoluce – Novembre
09. In Silence Enshrined – Katatonia
10. All Life Ends – At The Gates
11. Oceans Of Afternoons – Novembre
12. Scum – Napalm Death
13. Kill Yourself – S.O.D.
14. Fin – Novembre
15. Malleus Maleficarum – Pestilence
16. Behind That Curtain – Schizo
Night Shift
In onda ogni martedì a partire dalle 22:30 sui 103.3 FM di Radio Popolare Roma e in streaming su
radiopopolareroma.it
.
Contenitore musicale notturno che punta alla messa in circolo delle sonorità meno diffuse nell'etere romano. Grande attenzione è rivolta alle band underground nostrane, che vengono invitate a raccontarsi proponendo la loro musica e quella delle loro origini.