Night Shift – Centottantesima Puntata
Una puntata senza ospiti per presentare un po' di novità arrivate in redazione e scovate in rete.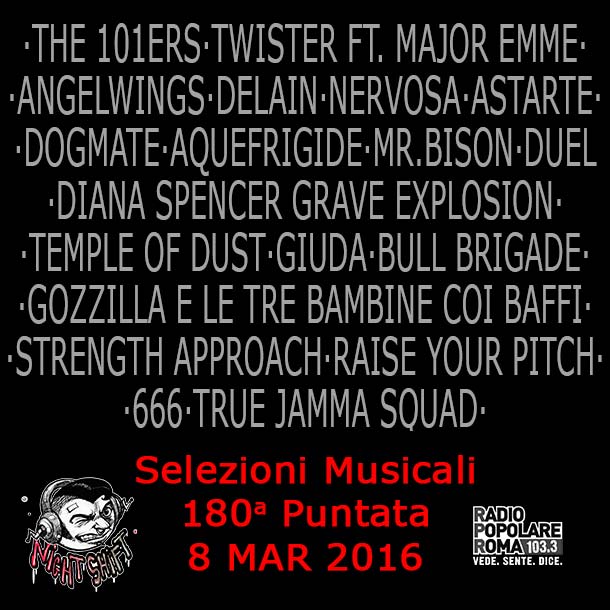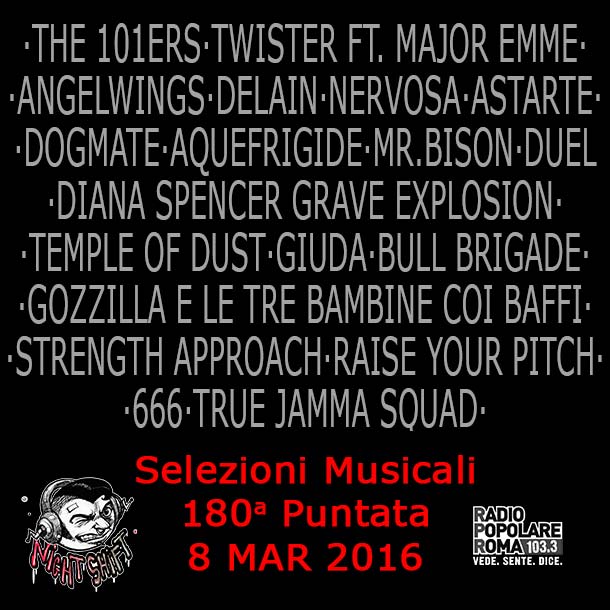 Un viaggio musicale dal Brasile all'Olanda, passando per il Texas, Gibilterra, la Grecia e ovviamente l'Italia. Tra punk, metal, stoner e qualche curiosità contaminata.
Il podcast sul Mixcloud di Night Shift.
Playlist
01. Gloria (live) – The 101ers
02. Last Night – Twister ft. Major Emme
03. Lilith – Angelwings
04. Suckerpunch – Delain
05. Death – Nervosa
06. Mutter Astarte – Astarte
07. Son Man – Dogmate
08. Mai – Aquefrigide
09. Black Crow – Mr.Bison
10. This Old Crow – Duel
11. Space Cake – Diana Spencer Grave Explosion
12. Thunder Blues – Temple of Dust
13. Bonehead Waltz – Giuda
14. Motorcity – Bull Brigade
15. Sporchi, Marci Ed Ubriaconi – Gozzilla E Le Tre Bambine Coi Baffi
16. Against The Grain – Strength Approach
17. Un Destino – Raise Your Pitch
18. Sei Un Mito – 666
19. Stop – True Jamma Squad
Night Shift
In onda ogni martedì a partire dalle 22:30 sui 103.3 FM di Radio Popolare Roma e in streaming su
radiopopolareroma.it
.
Contenitore musicale notturno che punta alla messa in circolo delle sonorità meno diffuse nell'etere romano. Grande attenzione è rivolta alle band underground nostrane, che vengono invitate a raccontarsi proponendo la loro musica e quella delle loro origini.