Night Shift – Centosettantottesima Puntata (Motus Tenebrae)
Gli amici di Night Shift questa volta intercettano i Motus Tenebrae.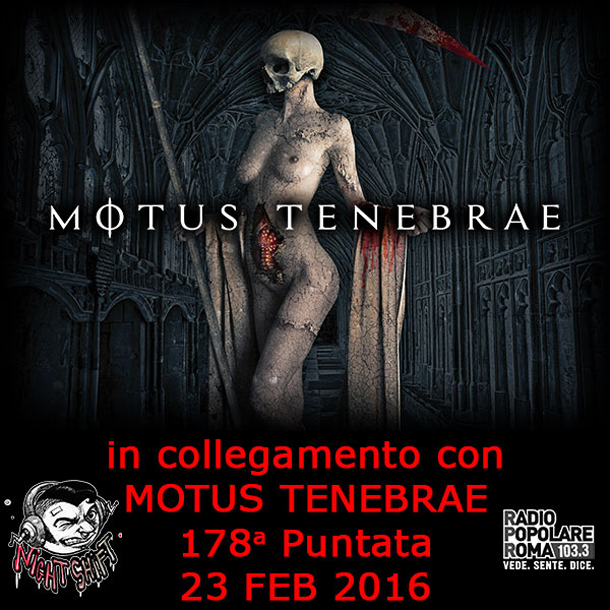 I Motus Tenebrae nascono nel 2001 e nel giro di pochi anni si affermano come una delle principali realtà heavy/gothic/doom metal italiane. Dopo alcuni cambi di line-up e soprattutto il ritorno dei Luis McFadden alla voce, la band trascorre un periodo sulle colline toscane a provare e registrare i pezzi che comporranno il nuovo album Deathrising.
I Motus Tenebrae orgogliosamente svelano la loro evoluzione musicale, una nuova magnifica esperienza che li porta a un diverso livello di consapevolezza dei loro mezzi e della loro realtà. Il passo finale che permette tutto questo è la firma del contratto con My Kingdom Music.
Il podcast della puntata sul Mixcloud di Night Shift.
Playlist
01. Burnin' Streets – Joe Strummer & The Mescaleros
02. Our Weakness – Motus Tenebrae
03. Enchantment – Paradise Lost
04. Green Man – Type O Negative
05. Haunt Me – Motus Tenebrae
06. Under The Runes – Bathory
07. Lilith – Death SS
08. Saints Are Coming – Motus Tenebrae
09. To Tame A Land – Iron Maiden
10. Nocturna – Moonspell
11. Light That We Are – Motus Tenebrae
12. Symbol Of Life – Paradise Lost
13. Tea – King Diamond
14. The Last Days of December – Motus Tenebrae
15. Headless Cross – Black Sabbath
16. How The Gods Kill – Danzig
Night Shift
In onda ogni martedì a partire dalle 22:30 sui 103.3 FM di Radio Popolare Roma e in streaming su
radiopopolareroma.it
.
Contenitore musicale notturno che punta alla messa in circolo delle sonorità meno diffuse nell'etere romano. Grande attenzione è rivolta alle band underground nostrane, che vengono invitate a raccontarsi proponendo la loro musica e quella delle loro origini.