Night Shift, puntata 207 (Witches Of Doom)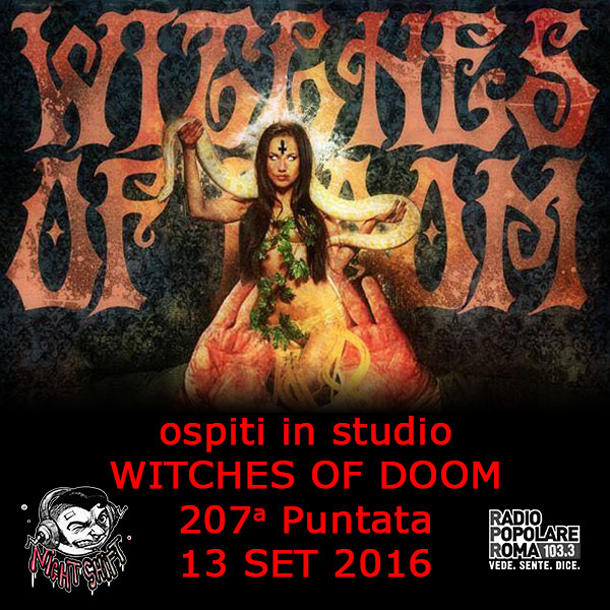 Un martedì sera trascorso in compagnia di un membro dei Witches Of Doom, che ci ha parlato della sua band di goth-stoner-doom rock, che spazia dai nomi tutelari anni Settanta fino agli anni Novanta.
Un mix goth-stoner-doom rock, che pesca e prende ispirazione da Black Sabbath, Cult, Paradise Lost, Doors ma anche Sisters Of Mercy, Depeche Mode e molti altri.
Ascolta la puntata.
Playlist
01. The Magnificent Seven – The Clash
02. Homeless – Witches Of Doom
03. Land Of Sunshine – Faith No More
04. Red Water (Christmas Mourning) – Type-O-Negative
05. Lizard Tongue – Witches Of Doom
06. Wasteland – The Mission
07. What Is And What Should Never Be – Led Zeppelin
08. Run With The Wolf – Witches Of Doom
09. Sweet Leaf – Black Sabbath
10. Embers Fire – Paradise Lost
11. Black Voodoo Girl – Witches Of Doom
12. Whatever That Hurts – Tiamat
13. Over The Wall – Testament
14. Deface (The Things That Made Me A Man) – Witches Of Doom
15. Rise – Pantera
16. Tornado Of Souls – Megadeth
Night Shift
In onda ogni martedì a partire dalle 22:30 sui 103.3 FM di Radio Popolare Roma e in streaming su
radiopopolareroma.it
.
Contenitore musicale notturno che punta alla messa in circolo delle sonorità meno diffuse nell'etere romano. Grande attenzione è rivolta alle band underground nostrane, che vengono invitate a raccontarsi proponendo la loro musica e quella delle loro origini.