NAXAL PROTOCOL, The Guilty Should Get What They Deserve!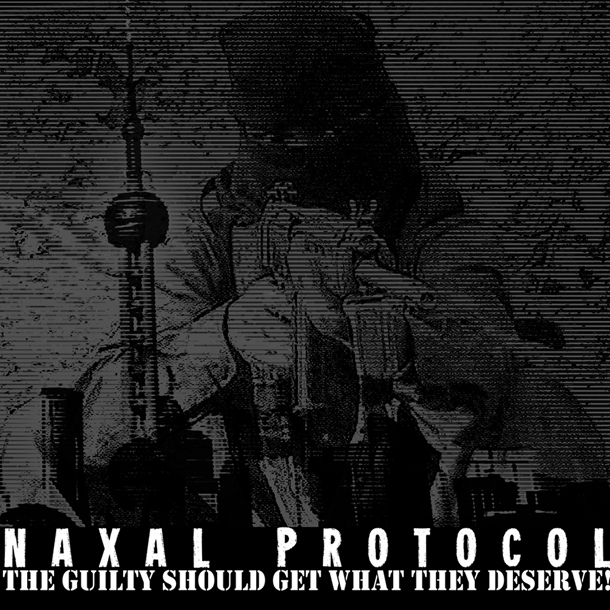 Chi ha dimestichezza con l'Italia power electronics di fine anni Novanta potrebbe ricordare – al fianco di Atrax Morgue o Murder Corporation – il nome, più reboante che altro, di Cazzodio. Piero Stanig, quindi, che per i più puntigliosi è stato anche per un brevissimo episodio Lupo Di Ghiaccio. Naxal Protocol è la sua nuova incarnazione e The Guilty Should Get What They Deserve! arriva in un momento propizio per quel tipo di noise vicino a posizioni para-industriali ora più nichiliste, ora più belligeranti (come in questo caso).
I suoni sono ancora spigolosi come un tempo, aguzzi ("May You Rot In Hell", "The Fear Of Infection As An Infection Of Fear", "Cosmonaut Cunnilingus"), abrasivi ("Degradation") e dai risvolti crudi e harsh ("A Welcome Intrusion"). È tutto il resto, la cornice, a essere privo di mordente. È come uscire dal coma (in questo caso lungo una decina di anni) e non accorgersi di come sia cambiato il mondo, cioè il modus operandi di un genere spesso troppo indulgente con se stesso. Così il risultato, a dispetto del cianuro che scorre nel lavoro, finisce per essere un'assenza di stimoli su quei nervi scoperti capaci di far scattare "quel qualcosa" di viscerale.
Tracklist
01. Naxal In The Air Tonight
02. A Welcome Intrusion
03. Cosmonaut Cunnilingus
04. May You Rot In Hell
05. Shanghai Cocaine Nights
06. The Fear Of Infection As An Infection Of Fear
07. Tied Down
08. The Permanent Delirium Of The Reactionary Mind
09. Degradation
10. The Despot Dies Smiling